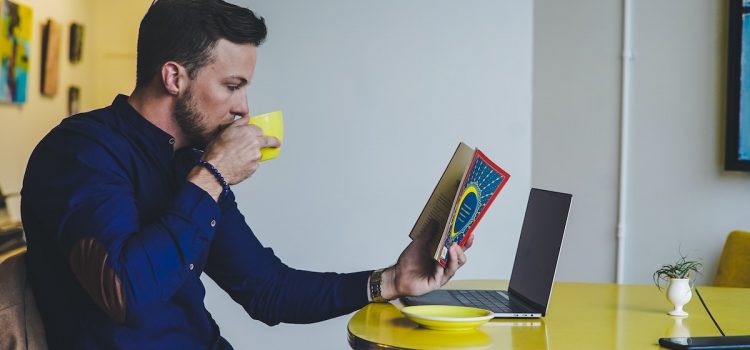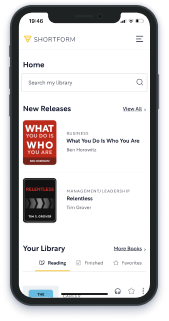 This article gives you a glimpse of what you can learn with Shortform. Shortform has the world's best guides to 1000+ nonfiction books, plus other resources to help you accelerate your learning.
Want to learn faster and get smarter? Sign up for a free trial here .
Have you started your own business? Are you struggling to get your business off the ground?
Running a small business is hard work. It requires constant attention, smart decision-making, and self-discipline. If you're having trouble staying motivated to keep your business going, you need to read some of the best books for small business owners.
Here are books every small business owner should read.
Transforming Your Small Business Into a Big One
As an entrepreneur, it's your job to motivate your team every step of the way. Organizational management is an essential aspect of start-ups, so it's important to educate yourself on the subject. That's why many experts have written books filled with business advice that can turn a small business into a large, successful one.
To learn the tricks of the trade when it comes to independent businesses, check out the best books for small business owners to read in 2022.
Entrepreneurship Books for Small Businesses
Your business will be a large part of your life. That's why it's important not to neglect your own desires while keeping your business running. You may even pick up some important skills as a business owner along the way. 
Below, we've compiled the best books for small business owners who want to be the next Steve Jobs or Elon Musk.
For most small business owners, taking a four-week vacation is inconceivable. Overwhelmed with the hands-on work of running their company's daily operations, many entrepreneurs feel too burned out to achieve work-life balance—let alone take a holiday. However, in Clockwork, entrepreneur Mike Michalowicz claims a four-week vacation is within reach for small business owners. He argues that entrepreneurs can avoid burnout, achieve work-life balance, and revitalize their businesses by committing to a hands-off approach. A hands-off entrepreneur serves as their business's visionary while their employees handle daily operations.
In this book, Michalowicz presents his steps for becoming a hands-off entrepreneur with a healthy work-life balance. You'll learn how to build a motivating business framework, train your employees to be independent, and fix your company's big-picture issues.
Although there are thousands of successful companies and leaders, only a few ever really change the world. What makes these different from the rest?
They start with WHY – the vision and mission behind their efforts. Starting with WHY yields benefits like a more inspired team, more loyal customers, and enduring long-term success. In Start With Why, learn how to discover your WHY and communicate it through your organization and to the outside world.
Many people want to retire as millionaires so that they have the time and money to travel, buy luxury cars and homes, or visit with their friends and families. However, you don't need to be a millionaire to do all these things. You don't even need to retire.
Entrepreneur, consultant, and lecturer Tim Ferriss explains in The 4-Hour Work Week how anyone can create the retired millionaire lifestyle for themselves, right now, by following a four-step process: define, eliminate, automate, and liberate (DEAL).
In Anything You Want, CD Baby founder Derek Sivers shares the lessons he learned from being an accidental entrepreneur whose hobby turned into a $22 million business. Sivers's non-traditional approach to business ownership—centering on honesty, creativity, and humanity—is a model for burgeoning entrepreneurs who want to stay true to themselves and do right by others while building their dream.
A professional musician, Sivers founded CD Baby in 1998 to sell his CDs online when major music companies wouldn't. What began as an endeavor to address his own unmet need quickly led to Sivers helping friends and other independent musicians sell their CDs online. Sivers sold the successful company in 2008 and put the proceeds into a trust dedicated to music education. These are the lessons he learned along the way.
People who are comfortable in social situations have the best chance of establishing beneficial relationships and creating opportunities for personal and professional success. Unfortunately, many people struggle with social situations and don't know how to confidently approach and talk to others. Their discomfort prevents them from creating new connections and they miss out on enjoying opportunities that spring from social and professional relationships.
In How to Talk to Anyone, Leil Lowndes presents practical techniques to help you overcome social discomfort and confidently develop new connections that could help you with your small business. You'll come away knowing how to:
Appear more likable without saying a word
Confidently approach people you want to talk to
Feel at home in any social context
Encourage meaningful conversations
Marketing Books for Small Businesses
Marketing is an important part of every business. No matter where you are in your business journey—whether you're just starting out or you're already successful—knowing how to market your small business is an essential skill.
Check out these marketing books for small business owners.
The purpose of a business is to make money and grow—and for a small business, the surest way to make money is to have a simple, clear marketing plan defining who you're targeting as prospects and customers and how you'll reach them. However, many small businesses fail to market effectively.
In The 1-Page Marketing Plan, business coach and entrepreneur Allan Dib tells small business owners how to create a marketing plan using a simple template that guides you through three customer-focused phases of marketing: awareness, familiarity, and enthusiasm. The plan defines a process or "customer journey" of interactions that you'll walk your prospects through. They'll start out not knowing anything about your business and ultimately become superfans who will drive your business growth.
Many businesses assume they must rely on expensive mass-media marketing campaigns to build customer awareness and generate sales. However, this assumption doesn't bode well for small businesses with limited resources.
Bestselling author and marketing guru Jay Conrad Levinson argues that, with the right marketing strategy, even the smallest of businesses can make a significant impact. In Guerrilla Marketing, he provides timeless advice for creating a profitable marketing strategy that any business can use to establish its place in the market.
In this book, you'll come away knowing how to:
Define your target market
Create an appealing marketing message
Keep your marketing costs low
Identify the most profitable marketing methods for your business
What if everything you knew about marketing was wrong? In How Brands Grow, marketing professor Byron Sharp argues that many of the marketing principles commonly taught in business schools are unsubstantiated myths. By examining the real-world data that indicates which marketing techniques succeed and which fail, Sharp claims to have discovered a new set of empirical rules that directly contradict the widely-held "common sense" principles of marketing.
In this book, you'll explore what Sharp believes most marketers get wrong about where a brand's profits come from and the psychology behind consumers' purchasing decisions. Furthermore, Sharp defines the optimal strategy to market any brand.
In our hyper-connected society, important messages often fail to gain traction, while bad ideas and falsehoods, such as urban legends, go viral and seem to stick around forever. Made to Stick by brothers Chip and Dan Heath explores what makes some messages "stick" in the public's consciousness while others go unremembered and explains how to create an idea that sticks. Based on a wide-ranging examination of psychology research, popular culture, and news headlines, they identify six criteria that anyone can apply for shaping a message so it resonates: Make it simple, unexpected, concrete, credible, emotional, and make it a story.
Finance Books for Small Businesses
Finances can be tricky for small businesses. Many people start with a small budget and have to make do with what they have. Thankfully, many experts have voiced their advice in several books on gaining financial stability and using your finances wisely.
Here are the best finance books for small business owners to read.
If you're looking to break away from your current work arrangement and start doing something that you're passionate about, consider starting your own microbusiness, a business run by one person. Where you once needed to have a fair amount of funding to get started, Chris Guillebeau suggests you can now do so for as little as $100.
In The $100 Startup, Guillebeau breaks down the process of starting your own business. He covers everything from finding your target audience to creating a development plan, explaining how you can find success without loaning a cent from the bank.
Mike Michalowicz's Profit First criticizes traditional business accounting methods by claiming that they are unintuitive and that their unintuitive nature leads many entrepreneurs to failure. He then outlines an alternate accounting system, which he calls the Profit First method. In the Profit First method, a percentage of income is set aside as profit before any expenses are calculated. This method, he says, allows an entrepreneur to do their business accounting simply and intuitively, and to increase their business's profitability and stability.
In this book, Michalowicz criticizes traditional accounting and discusses his recommendations for how to set up Profit First accounting and how to use its guidelines to improve your business.
The Lean Startup by Eric Ries is considered a bible in the tech entrepreneurship community. It's a methodology for creating businesses that focuses on finding out what customers actually want. It uses concepts of scientific experimentation to prove that you're making progress. It encourages you to launch as early and cheaply as possible so you don't waste time and money.
Learn the critical concepts of the Minimum Viable Product, cohort metrics, A/B testing, virality, and startup pivots.
Have you ever wondered how the economy works – how millions of individuals can buy and sell goods and services without a master coordinator? Have you wondered why we use money, rather than bartering our services with each other? Why do some nations prosper, while others stay poor despite vast natural resources?
Basic Economics by Stanford economist Thomas Sowell is an incredibly useful, broad introduction to economics that can be helpful when starting a small business. Containing no math, it instead communicates intuitive principles that will help you understand how market transactions work and the effect of policies on the economy.
In Basic Economics, you'll learn why
Rent control intended to allow affordable housing for the poor can actually make life worse by reducing housing supply and quality
Setting a higher minimum wage leads to more unemployment and disadvantages for youth and minorities
Why payday lenders are justified in charging high-interest rates and fees
Why raising tax rates may not lead to higher tax revenues
Why brand names exist, and how they reduce variance in quality
Books to Help Your Business Grow
If your small business has reached the point where finances are steady and you have a good amount of customers, it's time to think about growth opportunities. Check out these books if you want to see your company expand.
In today's fast-paced, high-tech world, old approaches to marketing no longer work. Large-scale, big-budget advertising campaigns are too slow and imprecise for the online world. Better by far is to use growth hacking, the authors' cutting-edge strategy for optimizing your business and skyrocketing its growth.
Hacking Growth presents Sean Ellis and Morgan Brown's non-traditional approach to refining your marketing, product design, user experience, and more. Ellis and Brown were two of the first Silicon Valley pioneers to devise growth hacking strategies, and their methods have been used by top tech companies as well as startups to create massive growth.
In this book, the authors cover the basics of growth hacking—how to set up your team, gather data, generate insights, create ideas, and optimize your business for growth.
In Scaling Up, Verne Harnish argues that there are several crucial elements to successfully guiding your business as it grows from a small company or sole proprietorship into a firm employing hundreds or thousands of people. These elements include:
Articulating a clear vision for what you ultimately want your company to be—anchored by a core set of values
Implementing the right long-term, multiyear strategy to bring that vision to life
Putting the right team in place with smart hiring practices to bring new employees on board and regular training to keep your existing employees performing at a top level
Guiding implementation by assigning core functions to individuals who will be accountable for them, establishing and tracking key performance indicators (KPIs), maintaining a healthy cash flow, and maximizing your company's labor productivity
In Good to Great, former Stanford business professor Jim Collins offers a primer on turning the average into the exceptional. Through detailed case studies of 11 companies that went from tracking the market to exceeding it by at least 3x, Collins presents the key factors that separate merely good organizations from great ones—from rare leadership to disciplined thinking to the dogged pursuit of a core mission.
Whether you're an entrepreneur, a manager, or just an individual looking to improve, the concepts in Good to Great provide food for thought—and spurs action. You'll learn what it takes to be a "Level 5" leader, why assembling the right team first is more important than having the right idea, why you should be more like a hedgehog than a fox, and why "stop doing" lists are as important as "to do" lists.
Many people dream of quitting a job and becoming their own boss by starting a business. A million new businesses are started each year, but 40 percent fail within the first year and 80 percent fail within five years. Underlying the high failure rate are persistent romantic notions about how businesses are born and what it takes to succeed.
In The E-Myth Revisited, Michael E. Gerber explains how focusing solely on the product undermines new businesses, and just trying to work harder undermines new businesses. The right approach is to view your business like a franchise—to systematize operations so that it no longer relies on you. This thirty-year-old classic is a part-practical and part-philosophical guide to conceptualizing and starting a business.
Traction offers a helping hand for beginning entrepreneurs and others whose businesses are stuck at a point where hard work and determination are no longer enough for them to survive and grow. Business owner and consultant Gino Wickman explains how to structure your business using his Entrepreneurial Operating System to remove typical frustrations, so it regains momentum, it runs seamlessly, and you don't get mired in details. The system is based on practical experience, not theory. Numerous tools and templates lead business owners step by step through processes to create a structure and core focus that strengthen and reenergize their organizations.
Final Thoughts
Starting a business is a huge life decision, and you have to constantly motivate yourself to keep it afloat. With these books for small business owners, you'll be armed with all the information you need to make your business thrive.
Did we miss any of the best books for small business owners? Leave your suggestions in the comments below!
18 Best Books for Small Business Owners to Read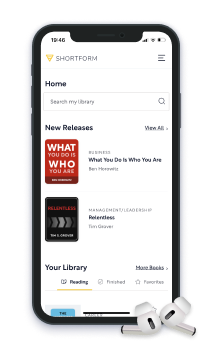 Here's what you'll get when you sign up for Shortform :
Complicated ideas explained in simple and concise ways
Smart analysis that connects what you're reading to other key concepts
Writing with zero fluff because we know how important your time is