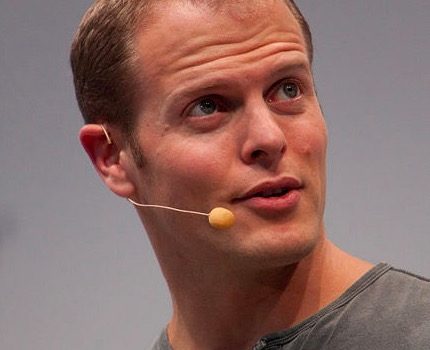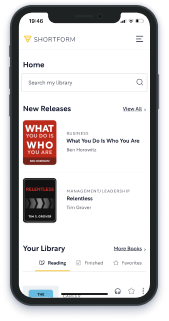 This article gives you a glimpse of what you can learn with Shortform. Shortform has the world's best guides to 1000+ nonfiction books, plus other resources to help you accelerate your learning.
Want to learn faster and get smarter? Sign up for a free trial here .
In every episode of Tim Ferriss's podcast, "The Tim Ferriss Show," he asks his guests what their favorite books are, or what books they've given as gifts most often. Consequently, he's amassed an enormous number of book recommendations (many of which are detailed in his book Tribe of Mentors), and he's read quite a few books himself. What are the top Tim Ferriss book recommendations?
Because Tim Ferriss reads 1-4 books per week, he has many recommendations, but we've highlighted some of the best here. Check out some of Tim Ferriss's favorite books.
Don't have as much time as Tim Ferriss to read? That's where Shortform comes in. With Shortform, you can get the key lessons from the best nonfiction books in minutes, not in hours. Our experts condense the key lessons from recommended books like these into an efficient summary. Check out our high-quality summaries of these 8 books to see if you can learn more quickly.
1. The Magic of Thinking Big, by David J. Schwartz
TITLE: The Magic of Thinking Big
AUTHOR: David J. Schwartz
TIME: 37
READS: 29.8
IMG_URL: https://www.shortform.com/blog/wp-content/uploads/2020/01/magicthinkingbig_cover.jpg
BOOK_SUMMARYURL: the-magic-of-thinking-big-summary-david-schwartz
AMZN_ID: B00NGZIR92

We are surrounded by people who seem more successful than us and who earn more money than we do. We may think, "What do they have that I haven't got? Are they just smarter?" In The Magic of Thinking Big, author David J. Schwartz says it's a matter of mindset. Successful people "think bigger" — they believe in themselves, have a grander scale of imagination, and see bigger possibilities. And they behave accordingly — they have magnetic attitudes, prefer action to waiting, and learn from every setback. Learn the strategies and techniques that successful people use.
Tim Ferriss includes The Magic of Thinking Big in his list of "The Fundamental Four," books he recommends repeatedly.
Ferriss said of The Magic of Thinking Big, "This book was first recommended to me by Stephen Key, an ultra successful inventor who has made millions of dollars licensing products to companies like Disney, Nestle, Coca-Cola….It is the favorite book of many super-performers worldwide I've spoken with, ranging from legendary football coaches to famous CEOs." It's a top book on Tim Ferriss's book list.
2. The E-Myth Revisited: Why Most Small Businesses Don't Work and What To Do About It, by Michael Gerber
TITLE: The E-Myth Revisited
AUTHOR: Michael E. Gerber
TIME: 18
READS: 25.8
IMG_URL: https://www.shortform.com/blog/wp-content/uploads/2020/11/the-e-myth-revisited-cover.png
BOOK_SUMMARYURL: the-e-myth-revisited-summary-michael-gerber
AMZN_ID: B000RO9VJK

Many people dream of quitting a job and becoming their own boss by starting a business. A million new businesses are started each year, but 40 percent fail within the first year and 80 percent fail within five years. Underlying the high failure rate are persistent romantic notions about how businesses are born and what it takes to succeed.
In The E-Myth Revisited, Michael E. Gerber explains how focusing solely on the product undermines new businesses and just trying to work harder undermines new businesses. The right approach is to view your business like a franchise—to systematize operations so that it no longer relies on you. This thirty-year-old classic is a part-practical and part-philosophical guide to conceptualizing and starting a business.
Tim Ferriss said of The E-Myth Revisited, "This is a classic. Gerber is a masterful storyteller, and this classic of automation discusses how to use a franchise mindset, not necessarily the business model, but a franchise mindset to create scalable businesses that are based on rules and systems and not outstanding employees….suffice to say, if you're stuck in your own business, this book can help you get unstuck."
3. The Things They Carried, by Tim O-Brien
TITLE: The Things They Carried
AUTHOR: Tim O'Brien
TIME: 19
READS: 22
IMG_URL: https://www.shortform.com/blog/wp-content/uploads/2019/12/thingstheycarried-cover.jpg
BOOK_SUMMARYURL: the-things-they-carried-summary-tim-obrien
AMZN_ID: 618706410

The Things They Carried by Tim O'Brien tells the stories of a small company of American soldiers serving in the Vietnam War. Through the narrative, the book blurs the line between autobiography and fiction, leaving the reader unsure as to what is fact and what is myth. In reading these stories, we explore the harrowing physical and psychological toll of warfare and the dehumanizing and brutalizing effects of combat on human beings. We also see the transformative power that narrative and storytelling have to help us make sense of our experiences and give meaning and clarity to even the most shocking, chaotic, and traumatizing events.
Of The Things They Carried, Tim Farris said, "This was one of the most unique books I've ever read….O'Brien did a brilliant job of creating a 'fog of war' through his writing. As a reader, it devastates you yet keeps you wanting more." Clearly an important book on Tim Ferriss's recommended books list.
4. Extreme Ownership: How U.S. Navy SEALs Lead and Win, by Jacko Willink and Leif Babin
TITLE: Extreme Ownership
AUTHOR: Jocko Willink and Leif Babin
TIME: 42
READS: 34.3
IMG_URL: https://www.shortform.com/blog/wp-content/uploads/2019/11/extremeownership_cover.jpg
BOOK_SUMMARYURL: extreme-ownership-summary-jocko-willink-leif-babin
AMZN_ID: B0739PYQSS

What's the secret to being a great leader? Whether you're in a warzone or on the front lines of a corporate battle, Extreme Ownership argues that the best leaders take full responsibility for their actions and decisions, their teams, and their failures.
Authors Jocko Willink and Leif Babin are former U.S. Navy SEALs who served in Iraq. They honed the principles of Extreme Ownership on the battlefield, then applied the same tenets to the corporate world as business consultants. Willink and Babin illustrate how effective leaders exercise Extreme Ownership — by admitting failures, believing in their missions, checking their egos, delegating, and being accountable — through compelling war stories and useful business anecdotes.
About the author, Tim Ferriss said, "Jocko Willink is one of the scariest human beings imaginable….he is the co-author of an incredible new book–Extreme Ownership: How U.S. Navy SEALs Lead and Win–which I've been loving. Trust me. Buy it."
5. Principles: Life and Work, by Ray Dalio
TITLE: Principles: Life and Work
AUTHOR: Ray Dalio
TIME: 59
READS: 33.8
IMG_URL: https://www.shortform.com/blog/wp-content/uploads/2020/01/principles_cover.jpg
BOOK_SUMMARYURL: principles-life-and-work-summary-ray-dalio
AMZN_ID: B071CTK28D

Ray Dalio is founder of Bridgewater Associates, the largest hedge fund in the world. In his book Principles, Dalio shares the guiding principles powering his success and Bridgewater's.
Principles is a master class in rational thinking. The main theme is that finding truth is the best way to make decisions, and that ego, emotion, and blind spots prevent you from discovering the truth. Dalio shares his major strategies to circumvent these weaknesses, including radical open-mindedness, thoughtful disagreement, radical transparency, and believability-weighted decision making.
In a podcast interview with Ray Dalio, Tim Farriss said of Principles, "I highly recommend this book. It has already changed how I think about making decisions in my life and in my business, how I think about managing, how I think about managing, how I think about communications between teams. I could go on and on and on."
6. The Checklist Manifesto: How to Get Things Right, by Atul Gawande
TITLE: The Checklist Manifesto
AUTHOR: Atul Gawande
TIME: 24
READS: 36
IMG_URL: https://www.shortform.com/blog/wp-content/uploads/2019/12/checklistmanifesto-cover.jpg
BOOK_SUMMARYURL: the-checklist-manifesto-summary-atul-gawande
AMZN_ID: B0030V0PEW

In the 21st century, we can do extraordinary things: we can predict dangerous storms, explore distant planets, and save people from life-threatening conditions and injuries. Yet highly trained, experienced, and capable people regularly make avoidable mistakes.
In The Checklist Manifesto, Boston surgeon Atul Gawande contends the reason is that knowledge and complexity in many fields have exceeded the capacity of any individual to get everything right. Under pressure, we make simple mistakes and overlook the obvious. Drawing lessons from spectacular successes and failures in recent years, he argues that the solution is a checklist. The book builds the case for checklists and issues a plea for adopting this backstop to human fallibility.
Ferriss has said he's "obsessed with checklists" and said of The Checklist Manifesto, "I have this book on a shelf in my living room, cover out, as a constant reminder."
7. Man's Search for Meaning, Viktor E. Frankl
TITLE: Man's Search for Meaning
AUTHOR: Viktor E. Frankl
TIME: 17
READS: 37.5
IMG_URL: https://www.shortform.com/blog/wp-content/uploads/2020/01/manssearch_cover.jpg
BOOK_SUMMARYURL: mans-search-for-meaning-summary-viktor-frankl
AMZN_ID: B009U9S6FI

What is the meaning of life? This question has both plagued and motivated humans for centuries, and it's probably crossed your mind once or twice. But how do we answer this question, and how can we ensure our lives have meaning? Man's Search for Meaning recounts Viktor Frankl's experiences in the concentration camps of WWII and the school of therapy he invented to help us confront this very question.
Tim Ferris said of Man's Search for Meaning, "If someone were to ask me what one book I would recommend from this year's 52-book Books of Titans reading list, I would say Man's Search for Meaning. This book was moving, powerful….It was also personally challenging, presenting the idea that if a person has a why, they can live through any what, no matter how devastating."
8. Sapiens: A Brief History of Humankind, by Yuval Noah Harari
TITLE: Sapiens
AUTHOR: Yuval Noah Harari
TIME: 74
READS: 36.7
IMG_URL: https://www.shortform.com/blog/wp-content/uploads/2019/11/sapiens-cover.jpg
BOOK_SUMMARYURL: sapiens-a-brief-history-of-humankind-book-summary-yuval-noah-harari
AMZN_ID: B00ICN066A

In Sapiens, Yuval Noah Harari uses concepts from biology, history, and economics to tell the story of us, Homo sapiens. We start 2.5 million years ago, when Sapiens make their historical entrance, and end in the future, when the creation of an artificially created superhuman race may mark the end of the Sapiens species. Along the way, we learn how our ability to create imagined realities led to our dominance over other species. We watch as the Agricultural Revolution, the Scientific Revolution, imperialism, capitalism, and the Industrial Revolution change our species in lasting, and not always positive, ways.
Ultimately, we're left with one question: As we design our future, who do we want to become? Asking the right questions may be more important than finding the right answers. Read this summary to explore our history as a species—in doing so, you'll see today's world in an entirely new way.
Tim Ferriss has asked some of the most successful entrepreneurs in the world what book they've given most as a gift, and Sapiens was one of the most frequently mentioned books. Ashton Kutcher told Ferriss, "the deeper you dig, the more you realize we are all just standing on piles of collective fiction. This book does a great job of illustrating that point."
Naval Ravikant described Sapiens to Ferriss as, "A history of the human species, with observations, frameworks, and mental models that will have you looking at history and your fellow humans differently."
8 Top Tim Ferriss Book Recommendations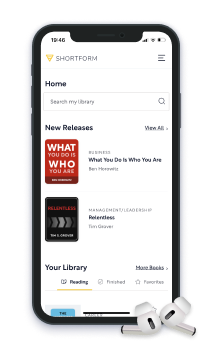 Here's what you'll get when you sign up for Shortform :
Complicated ideas explained in simple and concise ways
Smart analysis that connects what you're reading to other key concepts
Writing with zero fluff because we know how important your time is