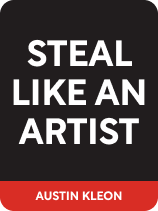 This article is an excerpt from the Shortform book guide to "Steal Like an Artist" by Austin Kleon. Shortform has the world's best summaries and analyses of books you should be reading.
Like this article? Sign up for a free trial here .
Have you wanted to try your hand at creating some form of art? How can you fit creativity into your busy life?
According to the "writer who draws," Austin Kleon, there are three steps you can take to add more creativity to your life. You can do this by prioritizing financial security, setting aside time for your hobbies, and using the right tools.
Below, we'll get into Kleon's advice on how to improve creativity.
1. Prioritize Financial Security
The first step in how to improve creativity may seem unrelated, but it's important. Part of prioritizing your creative work is not allowing the rest of your life to get in the way. For that reason, Kleon recommends being proactive about your finances so that you won't be constantly distracted by money worries.
One way to get your finances in order is to find a job outside your creative endeavors. Having a day job provides benefits beyond financial stability: It gives you a routine to build on, so you can easily slot in creative time every day. Furthermore, it maintains your connection to other people who might inspire you.
(Shortform note: In The War of Art, Steven Pressfield identifies additional benefits to having a day job beyond financial security, a routine, and a connection to other people. According to Pressfield, your day job helps you develop grit because you work even when you don't feel like working, which is a necessary trait to carry over into your creative pursuits. Similarly, your day job allows you to practice receiving feedback and separating your work from your core identity, which are also useful skills in creative work.)
2. Set Aside Time for Hobbies (and Boredom)
Although financial security is important, Kleon cautions against spending too much time at work. He recommends finding a hobby—something that you do purely for the joy of it. It doesn't need to be related to your creative work; rather than being a distraction, hobbies will actually improve your creativity because they'll encourage you to draw new connections. For example, if you're an architect, you may not think your birdwatching hobby could have much value for your career—until you draw inspiration from the shape of a bird's nest for your next project.
(Shortform note: In addition to promoting new connections between ideas, bestselling author Dale Carnegie argues that hobbies provide another important benefit: They help to ward off anxiety. This may be especially important for creative people as studies show that artists are more prone to anxiety than non-artists.)
Between your hobbies, day job, creative work, and necessary life tasks, your schedule could fill up pretty quickly. However, Kleon recommends allowing yourself some time for boredom. Boredom gives your brain the space to be creative because it's not cluttered up with other thoughts. To capitalize on this effect, take advantage of boring tasks like household chores—if you let your mind wander while you tidy up the house, you might come up with a brilliant new idea without even trying.
(Shortform note: To take advantage of these moments of boredom, you first have to resist filling them with distractions like social media. In Deep Work, Cal Newport argues that over time, pulling out your phone every time you experience the slightest sense of boredom weakens your overall ability to focus. Therefore, allowing yourself to experience boredom not only paves the way for new ideas, but it also strengthens your ability to focus on your creative work.)
3. Use the Right Tools
Kleon's final advice for organizing your life to support creativity is to use the right tools. First, use a calendar to track your creative progress. Kleon recommends crossing off each day on the calendar that you work on your creative projects. Aim to work a little bit every day so that you have an unbroken line of X's on the calendar. The more X's you accumulate in a row, the more inspired you'll be to keep going.
Second, Kleon advises keeping a notebook to record the details of your days. You don't have to write detailed, long-form journal entries—just jot down a few highlights to help you remember the highs and lows of your life and work. Over time, your notebook will become an artifact that tracks your progress as an artist and a person.
Foster Creativity With a Bullet Journal

Although Kleon presents the calendar and notebook as two separate tools, you could also combine them both with a bullet journal. In The Bullet Journal Method, Ryder Carroll describes bullet journaling as a productivity tool that acts as both a calendar and a notebook (as well as a planner, sketchbook, habit tracker, and diary).

To use Kleon's calendar tip in a bullet journal (and create a visual representation of each day you do creative work), you could create a dedicated habit tracker for each creative project. Your habit tracker can be as simple as a row of boxes that you cross out each day (as Kleon describes) or as complex as coloring in sections of a butterfly's wings with dedicated colors based on your progress.

Similarly, to keep track of the small details of your days as Kleon recommends, you can use Carroll's Rapid Logging system, a streamlined note-taking method that focuses on only the most essential information. The system uses different styles of bullet points to record different entries: a solid bullet (•) for tasks, an empty bullet (◦) for events, and a dash (-) for notes. That way, you can look back over your days and quickly get a clear picture of your creative and personal progress.
How to Improve Creativity: Follow These 3 Steps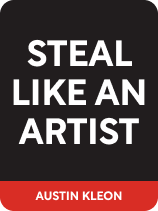 ———End of Preview———
Here's what you'll find in our full Steal Like an Artist summary :
Tips for maximizing creativity, finding inspiration, and breaking out of a creative rut
How copying others' art can improve your own
Why you should be cautious about sharing your art online