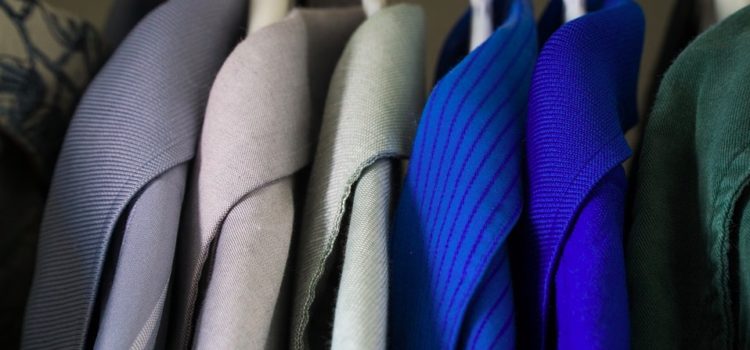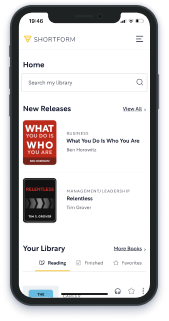 This article gives you a glimpse of what you can learn with Shortform. Shortform has the world's best guides to 1000+ nonfiction books, plus other resources to help you accelerate your learning.
Want to learn faster and get smarter? Sign up for a free trial here .
Are you addicted to your stuff? Do you long to feel free of all the clutter, but somehow end up just buying more? The best books on minimalism can help you organize your home, prioritize your goals, get your finances in order, and live a simpler, happier life.
Here's our carefully researched list of the 5 best minimalism books of all time. To compose this list, we used quantitative criteria such as:
High-quality recommendations from successful people like Jamie Lee Curtis, B.J. Novak, Oprah, and top CEOs.
Number of weeks on bestseller lists like the New York Times
Common perception and ratings by common readers, from networks like Amazon and Goodreads
Don't have time to get the benefits of reading? That's where Shortform comes in. With Shortform, you can get the key lessons from the best nonfiction books in minutes, not in hours. Our experts condense the key lessons from minimalism books like these into an efficient summary. Check out our high-quality summaries of these 5 minimalism books to see if you can learn more quickly.
1. Minimalism: Live a Meaningful Life, by Joshua Fields Millburn and Ryan Nicodemus
TITLE: Minimalism
AUTHOR: Joshua Fields Millburn and Ryan Nicodemus
TIME: 25
READS: 27.1
IMG_URL: https://www.shortform.com/blog/wp-content/uploads/2019/07/minimalism-cover.jpg
BOOK_SUMMARYURL: minimalism-summary-joshua-fields-millburn-ryan-nicodemus
AMZN_ID: B006I7DDPI

Minimalism offers a formula for how to live a meaningful life by first getting rid of clutter (like excess stuff and debt) and then focusing on five key areas: your health, relationships, passions, growth, and contributing to others.
The authors Millburn and Nicodemus achieved the American dream of corporate success and conspicuous consumption, but it left them unhappy, exhausted, and deeply in debt. They quit their jobs, re-examined their lives, and started the popular website TheMinimalists.com. In this book, they explain how anyone can follow their path of self-examination and how to make small daily changes to achieve a clutter-free, debt-free, and fulfilling life.
With 4.3 out of 5 stars on Amazon, this book is a fan favorite. Intrepid Radio called Minimalism "the minimalism book everyone's been waiting for," and Leo Babauta, author of the site "Zen Habits," referred to Minimalism as "an excellent new book."
2. The Life-Changing Magic of Tidying Up: The Japanese Art of Decluttering and Organizing, by Marie Kondo
[su_book__the_life-changing_magic_of_tidying_up]
Have too much stuff, and not sure how best to get rid of it? Marie Kondo is a world-renowned expert on tidying, and this book teaches you how to get past the most common barriers preventing you from decluttering. Go through the Konmari method once, and you may find your relationship with things to be changed permanently.
Celebrities have been outspoken fans. Actor, producer, and author B.J. Novak said of The Life-Changing Magic of Tidying Up, "This book lives up to its title: it will change your life."
Jamie Lee Curtis said, "I recommend it for anyone who struggles with the material excess of living in a privileged society….To show you how serious my respect for Ms. Kondo is: if I ever get a tattoo, it will say, Spark Joy!"
3. Essentialism: The Disciplined Pursuit of Less, by Greg McKeown
TITLE: Essentialism
AUTHOR: Greg McKeown
TIME: 33
READS: 36.2
IMG_URL: https://www.shortform.com/blog/wp-content/uploads/2020/01/essentialism-cover.jpg
BOOK_SUMMARYURL: essentialism-book-summary-greg-mckeown
AMZN_ID: B00G1J1D28

We feel constantly pressed for time. We try to do too much, yet when someone makes a request, we say yes without thinking. We feel we have to do it all. But because we're going in so many directions, we make little progress in any of them. Yet most of these activities are trivial. As Greg McKeown, author of Essentialism puts it, we're majoring in minor activities.
The way out of this trap is to practice essentialism: "do less but better." McKeown explains how you can distinguish the vital few from the trivial, then eliminate the nonessentials and make your optimum contribution in your life and work.
CEO of TopLine Comms Heather Baker said of Essentialism, "This book taught me a valuable lesson about focusing on what's most important and saying no to everything else. This approach freed up my time dramatically….If you've ever found yourself stretched too thin, feel simultaneously overworked and underutilised, or…feel like your time is constantly being hijacked by other people's agendas, then Essentialism is the game changer you've been looking for. This book changed my life and the business."
4. The One Thing: The Surprisingly Simple Truth Behind Extraordinary Results, by Gary Keller and Jay Papasan
TITLE: The One Thing
AUTHOR: Gary Keller
TIME: 26
READS: 29.8
IMG_URL: https://www.shortform.com/blog/wp-content/uploads/2020/01/onething-cover.jpg
BOOK_SUMMARYURL: the-one-thing-summary-gary-keller
AMZN_ID: B00C1BHQXK

In The One Thing, real estate entrepreneur Gary Keller argues that the key to extraordinary success is focusing daily on the "One Thing" that's most important for achieving your goal, rather than scattering yourself in many directions. Keller and co-author Jay Papasan explain how to determine your goal or life purpose, then focus intensely on getting there, while avoiding pitfalls such as multitasking, relying on an unprioritized to-do list, thinking too small, misunderstanding willpower and discipline, and neglecting your personal life. When you know and focus exclusively on the most important thing every day, everything else falls into place. Extraordinary focus on One Thing brings extraordinary success.
Drift CEO David Cancel said of The One Thing, "This is the book that aligns everything we do at Drift and has helped our entire team focus on the task at hand….This is one book that every new employee get [sic] when they join the team at Drift."
5. The Power of Now, by Eckhart Tolle
TITLE: The Power of Now
AUTHOR: Eckhart Tolle
TIME: 28
READS: 30.1
IMG_URL: https://www.shortform.com/blog/wp-content/uploads/2019/08/powerofnow_cover.jpg
BOOK_SUMMARYURL: the-power-of-now-summary-eckhart-tolle
AMZN_ID: B002361MLA

The Power of Now proposes that the only way to reach true peace and fulfillment is through being completely present in each moment you experience. There is a part of our mind, called the ego, that derails us by ruminating on the past, speculating about the future, clinging to our painful experiences, and insisting that we will be happy and fulfilled if we can just achieve this goal.
The Power of Now reveals that inner peace and happiness can't be found in anything external, but rather must be found within by being present. Learn tips and methods for quieting your thoughts and fears to find fulfillment through presence.
Said Oprah of The Power of Now, "Meg Ryan and Ellen DeGeneres gave me copies of this book, and it's gotten me through more crises than I can count. It truly helped me discover how to live in the now—to not linger on past mistakes, but to learn from them and then let them go."
The 5 Best Books on Minimalism and Simple Living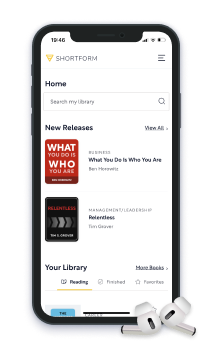 Here's what you'll get when you sign up for Shortform :
Complicated ideas explained in simple and concise ways
Smart analysis that connects what you're reading to other key concepts
Writing with zero fluff because we know how important your time is