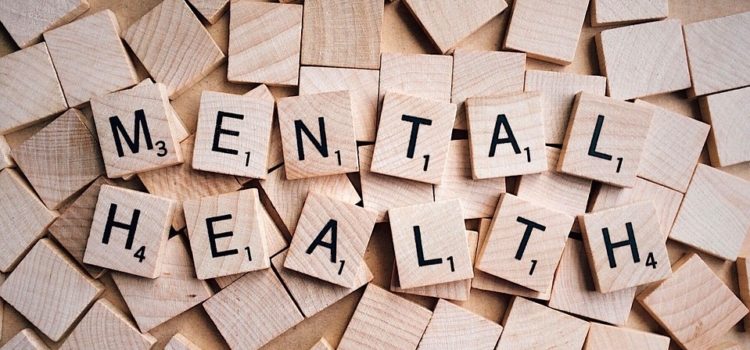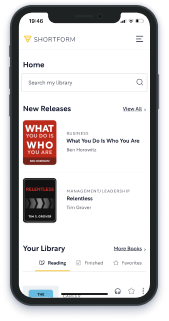 This article gives you a glimpse of what you can learn with Shortform. Shortform has the world's best guides to 1000+ nonfiction books, plus other resources to help you accelerate your learning.
Want to learn faster and get smarter? Sign up for a free trial here .
Your mental health has an enormous impact on every aspect of your life–your physical health, your work life, your relationships, and, of course, your mood. Whether you're dealing with trauma or managing day-to-day stressors, you probably could benefit from a more intentional focus on your mental well-being. Start with a book.
Here's our carefully researched list of the 10 best books on mental health and well-being. To compose this list, we used quantitative criteria such as:
High-quality recommendations from psychologists, therapists, doctors, and wellness celebrities like Oprah.
Number of weeks on bestseller lists like the New York Times
Common perception and ratings by common readers, from networks like Amazon and Goodreads
Don't have time to get the benefits of reading? That's where Shortform comes in. With Shortform, you can get the key lessons from the best mental health books in minutes, not in hours. Our experts condense the key lessons from mental health books like these into an efficient summary. Check out our high-quality summaries of these 10 books to see if you can learn more quickly.
1. Cognitive Behavior Therapy: Basics and Beyond, by Judith S. Beck and Aaron T. Beck
TITLE: Cognitive Behavior Therapy: Basics and Beyond
AUTHOR: Judith S. Beck
TIME: 27
READS: 22.6
IMG_URL: https://www.shortform.com/blog/wp-content/uploads/2020/01/cbt_cover.jpg
BOOK_SUMMARYURL: cognitive-behavior-therapy-basics-and-beyond-summary-judith-s-beck
AMZN_ID: B005HROKHU

Do you ever find yourself in stressful situations, rationally knowing you shouldn't be stressed? Have you stopped wishing you'd think self-defeating thoughts, mustering more courage to do the things you've wanted to do? You might find elements of cognitive behavioral therapy to be useful.
Cognitive behavioral therapy (CBT) is a standard first line of treatment for improving mental health disorders such as depression and anxiety. CBT has been found to be as effective as medication in treating many mental disorders. This CBT basics summary covers the principles of mental disorders and treatment, as well as tactics that are broadly applicable to your daily life, helping you overcome anxiety, sadness, anger, frustration, and stress.
Sara J. Knight, PhD, Northwestern University Medical Schools, said of Cognitive Behavior Therapy, "This is a most useful manual for beginning students and clinicians in mental health professions….Among the existing books on cognitive therapy that emphasize its theoretical foundations, this stands out as a concise, practical guide."
The Journal of Psychosocial Nursing said, "A practical, no-nonsense text that is extremely comprehensive and reader-friendly. Throughout the book, Ms. Beck offers clinical examples taken from actual transcripts of therapy sessions that clearly and practically illustrate each technique and concept."
2. The Body Keeps the Score: Brain, Mind, and Body in the Healing of Trauma, by Bessel van der Kolk
TITLE: The Body Keeps the Score
AUTHOR: Bessel van der Kolk
TIME: 40
READS: 20.7
IMG_URL: https://www.shortform.com/blog/wp-content/uploads/2020/01/body-keeps-score-cover.jpg
BOOK_SUMMARYURL: the-body-keeps-the-score-summary-bessel-van-der-kolk
AMZN_ID: B00G3L1C2K

Trauma can stem from abuse to a severe car accident to wartime combat—and cause a lifetime of flashbacks, nightmares, isolation, insomnia, hypervigilance, and rage. In The Body Keeps the Score, the author explores how diagnosing and treating trauma has evolved as new technologies, research, and fields of science emerged.
Trauma's impact is not only mental, emotional, and neurological, but also physiological: Trauma rewires the brain to put people in a constant state of stress or numbness, leading to a host of physical problems.
In this summary, you'll learn:
* Why trauma survivors feel like their trauma is never-ending
* How flashbacks make parts of the brain shut down and others to go into overdrive
* Why some trauma survivors can't recognize themselves in the mirror
* How activities like choral singing, yoga, and theater can be therapeutic
Jon Kabat-Zinn said, "This book is a tour de force. Its deeply empathic, insightful, and compassionate perspective promises to further humanize the treatment of trauma victims, dramatically expand their repertoire of self-regulatory healing practices and therapeutic options, and also stimulate greater creative thinking and research on trauma and its effective treatment."
In the New Scientist, Shaoni Bhattacharya writes of The Body Keeps the Score, "Packed with science and human stories, the book is an intense read. . . . [T]he struggle and resilience of his patients is very moving."
3. Emotional Intelligence, by Daniel Goleman
TITLE: Emotional Intelligence
AUTHOR: Daniel Goleman
TIME: 52
READS: 50.6
IMG_URL: https://www.shortform.com/blog/wp-content/uploads/2019/07/emotionalintelligence_cover.jpg
BOOK_SUMMARYURL: emotional-intelligence-summary-daniel-goleman
AMZN_ID: B000JMKVCG

Do you constantly get swept away by your emotions? Would you like to learn how to control your emotional reactions at home or at work? Or maybe you're uncomfortable with emotions, and don't understand why you or anyone else feels them? Emotional Intelligence by Daniel Goleman is a comprehensive look at what emotions are and why we have them, how we can get better at managing them, and why the well-being of humanity might depend on us doing so.
Drew Houston, co-founder and CEO of Dropbox, said of Emotional Intelligence, "Then I stumbled across a book, Emotional Intelligence, by Daniel Goleman, and I was like, oh my god…it spelled out something that I just didn't know you could kind of break down in a logical way….It got me on a path to developing what we'd now call a growth mindset."
4. The Subtle Art of Not Giving a F*ck: A Counterintuitive Approach to Living a Good Life, by Mark Manson
TITLE: The Subtle Art of Not Giving a F*ck
AUTHOR: Mark Manson
TIME: 30
READS: 38.4
IMG_URL: https://www.shortform.com/blog/wp-content/uploads/2020/01/subtleart_cover.jpg
BOOK_SUMMARYURL: the-subtle-art-of-not-giving-a-f-ck-summary-mark-manson
AMZN_ID: B019MMUA8S

The Subtle Art of Not Giving a F*ck by Mark Manson argues that we are frustrated in life and feel like failures because we value and prioritize the wrong things, thanks in part to society's emphasis on positive thinking, over-involved parents, and our susceptibility to superficial social media messages. This leads us to pursue emotional highs that don't lead to lasting happiness. The solutions are counterintuitive and include: be wrong, fail, tolerate feeling bad, accept pain, practice rejection. Because we can't care equally about everything, we need to prioritize and focus on what brings us happiness and meaning.
Entrepreneur Derek Sivers said of The Subtle Art of Not Giving a F*ck, "The opposite of every other book. Don't try. Give up. Be wrong. Stop believing in yourself. Follow the pain. And oh yeah, kill yourself. Each point is profoundly true, useful, and more powerful than the usual positivity. Succinct but surprisingly deep, I read it in one night, and now need to read it again."
5. The Power of Now: A Guide to Spiritual Enlightenment, by Eckhart Tolle
TITLE: The Power of Now
AUTHOR: Eckhart Tolle
TIME: 28
READS: 30.1
IMG_URL: https://www.shortform.com/blog/wp-content/uploads/2019/08/powerofnow_cover.jpg
BOOK_SUMMARYURL: the-power-of-now-summary-eckhart-tolle
AMZN_ID: B002361MLA

The Power of Now proposes that the only way to reach true peace and fulfillment is through being completely present in each moment you experience. There is a part of our mind, called the ego, that derails us by ruminating on the past, speculating about the future, clinging to our painful experiences, and insisting that we will be happy and fulfilled if we can just achieve this goal.
The Power of Now reveals that inner peace and happiness can't be found in anything external, but rather must be found within by being present. Learn tips and methods for quieting your thoughts and fears to find fulfillment through presence.
Oprah has said of The Power of Now, "My friend Meg Ryan told me about The Power of Now….It's one of the most transformative books I've ever read; I keep a copy with me wherever I go, flipping through its highlighted pages time and time again. For anyone seeking to lead a more connected, vibrant life, The Power of Now is essential reading."
6. You Are a Badass: How to Stop Doubting Your Greatness and Start Living an Awesome Life, by Jen Sincero
TITLE: You Are A Badass
AUTHOR: Jen Sincero
TIME: 40
READS: 26.8
IMG_URL: https://www.shortform.com/blog/wp-content/uploads/2020/01/youareabadass-cover.jpg
BOOK_SUMMARYURL: you-are-a-badass-summary-jen-sincero
AMZN_ID: B00B3M3VWS

You were born to be a badass, but are you getting the most out of your life? In You Are a Badass, author Jen Sincero helps you identify and change the self-sabotaging thoughts and behavior patterns that are stopping you from living up to your potential.
Creating a better life requires only one simple shift: Going from wanting to change your life to deciding to change your life. This book will explain why you are the way you are, how to change what you don't like, and how to love yourself as you create a new, awesome life.
Madisyn Taylor, co-founder of DailyOM, says of the author of You Are a Badass, "I adore Jen's realistic and funny take on all matters of living an awesome life. She has such a gift for writing in a very digestible way that will appeal to everyone. If you're looking for purple unicorns and rainbows you won't find them here, what you will find are practical and easy ways to connect with your inner badass and change your life."
7. Man's Search for Meaning, Viktor E. Frankl
TITLE: Man's Search for Meaning
AUTHOR: Viktor E. Frankl
TIME: 17
READS: 37.5
IMG_URL: https://www.shortform.com/blog/wp-content/uploads/2020/01/manssearch_cover.jpg
BOOK_SUMMARYURL: mans-search-for-meaning-summary-viktor-frankl
AMZN_ID: B009U9S6FI

What is the meaning of life? This question has both plagued and motivated humans for centuries, and it's probably crossed your mind once or twice. But how do we answer this question, and how can we ensure our lives have meaning? Man's Search for Meaning recounts Viktor Frankl's experiences in the concentration camps of WWII and the school of therapy he invented to help us confront this very question.
Entrepreneur Simon Sinek, author of Start with Why, says of Man's Search for Meaning, "This is essential reading for anyone interested in the topic of purpose. Because Frankl's personal experience was so extreme, the lessons are that much more stark. And, most importantly, his lessons are universally applicable to all our lives."
8. The Four Agreements, by don Miguel Ruiz
TITLE: The Four Agreements
AUTHOR: Don Miguel Ruiz
TIME: 12
READS: 36.7
IMG_URL: https://www.shortform.com/blog/wp-content/uploads/2019/07/fouragreements_cover.jpg
BOOK_SUMMARYURL: the-four-agreements-summary-don-miguel-ruiz
AMZN_ID: B005BRS8Z6

The world today is full of suffering and cruelty. From birth, we are trained to accept society's rules as "the way it is," but agreeing to these rules stops us from becoming our true selves. But there's a different way to live. If we replace the old agreements with four simple new agreements, we can break free from the old rules and find peace and happiness. These agreements are: 1) Use your words impeccably. 2) Don't take anything personally. 3) Don't make assumptions. 4) Always do your best.
Oprah said of The Four Agreements, "This book by don Miguel Ruiz, simple yet so powerful, has made a tremendous difference in how I think and act in every encounter."
9. Why We Sleep: Unlocking the Power of Sleep and Dreams, by Mathew Walker
TITLE: Why We Sleep
AUTHOR: Matthew Walker
TIME: 22
READS: 75.7
IMG_URL: https://www.shortform.com/blog/wp-content/uploads/2020/01/whywesleep_cover.jpg
BOOK_SUMMARYURL: why-we-sleep-summary-matthew-walker
AMZN_ID: B06ZZ1YGJ5

Sleep has a huge impact on mental health. You're probably getting less sleep than you should be. Many people are more chronically sleep-deprived than they realize, and the punishments for this are severe – reduced productivity and happiness, and increased risk of a panel of diseases. Why We Sleep discusses how sleep happens, its major benefits, and the best ways to get better sleep.
Bill Gates said, "Why We Sleep is an important and fascinating book…Walker taught me a lot about this basic activity that every person on Earth needs. I suspect his book will do the same for you."
10. The 5 Love Languages: The Secret to Love That Lasts, by Gary Chapman
TITLE: The 5 Love Languages
AUTHOR: Gary Chapman
TIME: 32
READS: 31.2
IMG_URL: https://www.shortform.com/blog/wp-content/uploads/2019/09/five-love-languages-cover.jpg
BOOK_SUMMARYURL: the-5-love-languages-summary-gary-chapman
AMZN_ID: B00OICLVBI

Relationships also have a huge impact on your mental health. Maintaining emotional love and connection in a relationship can be hard. Often, the problem is in the way you are communicating love to your partner, and vice versa. Have you ever demonstrated a gesture of affection, only to not have it appreciated? Does your partner ever say they don't feel loved enough?
These conflicts happen because every person receives and experiences love differently. The way you experience love dictates your love language. There are 5 love languages: Word of Affirmation, Quality Time, Receiving Gifts, Acts of Service, and Physical Touch. Learning to speak your partner's love language can help you understand how to make them feel loved. And learning your own love language helps you understand what makes you fulfilled in a relationship.
Robin R. Milhausen, PhD, of the University of Guelph, says, "Knowing your love language can be one of the single most important things in a relationship….Without this knowledge you can miss that your partner is being loving and caring."
The 10 Best Books on Mental Health, Chosen by Experts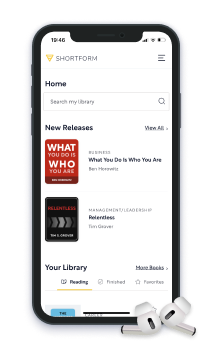 Here's what you'll get when you sign up for Shortform :
Complicated ideas explained in simple and concise ways
Smart analysis that connects what you're reading to other key concepts
Writing with zero fluff because we know how important your time is