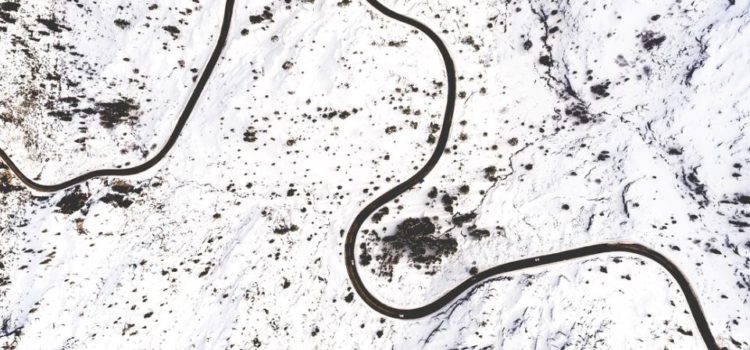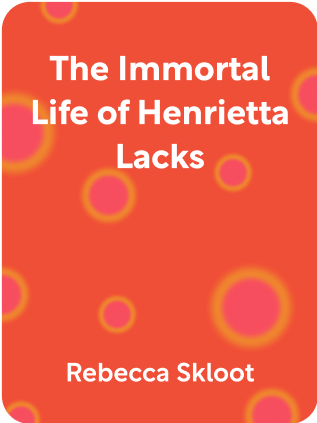 This article is an excerpt from the Shortform summary of "The Immortal Life of Henrietta Lacks" by Rebecca Skloot. Shortform has the world's best summaries of books you should be reading.
Like this article? Sign up for a free trial here .
Who were Henrietta Lacks' children? How did they cope with the tragic death of their mother? What happened to Henrietta Lacks' kids as they got older?
Henrietta Lacks' children are Lawrence, Elsie, Sonny, Deborah, and Joe. After her death, Henrietta Lacks' kids were cared for in part by cousins that turned out to be abusive.
Read about Henrietta Lacks' children, what happened to them in the decades after she passed, and how the use of HeLa cells affected them.
Loretta Pleasant, called Henrietta, was born in 1920 in Roanoke, Virginia, and raised in a small town in Virginia called Clover. At fourteen, she gave birth to her first child, a son named Lawrence; the father was her cousin, David "Day" Lacks. Four years later, she had a second child by him named Lucile Elsie, whom everyone called Elsie and who evidenced traits of a developmental disability. (Elsie would later be institutionalized.)

Day and Henrietta were married in 1941, and shortly thereafter, they moved to Turner Station, a booming industrial neighborhood in Baltimore. They had three more children—David, Jr. (Sonny), Deborah, and Joe (later Zakariyya)—the last of Henrietta Lacks's children was born in 1950.

Henrietta Lacks was diagnosed with Stage 1 epidermoid carcinoma and underwent radium treatment. Of course, the cells' resiliency, which made them so valuable to researchers, was less welcome in terms of Henrietta's health. She continued to have problems after treatment and a mass was found. Howard Jones arrived and declared the tumor terminal and sent Henrietta home to bed.

Shortly thereafter, one week after her 31st birthday, Henrietta was admitted to the hospital. Day and the children came to visit at first, but the nurses soon told the family that it made Henrietta too upset—she would weep for hours after her family left. Day and the children took to playing on the lawn outside Henrietta's window so she could watch them.

Henrietta died in October 1951. Her last words were to her sister Gladys. Henrietta Lacks' kids were the last thing she spoke about. She implored Gladys to make sure Day took care of the children.

1950s–1960s: Henrietta Lacks' Children Unaware of HeLa
The Lacks family was oblivious to the scientific and commercial value of Henrietta's cells—they didn't even know her cells had been taken. In the 60s, while HeLa cells were occupying a central role in scientific research and being shot into space, Henrietta's children were struggling with the repercussions of their traumatic childhood.

By 1966, 18-year-old Deborah had embarked on a relationship with Cheetah Carter and become pregnant with their first child, Alfred, Jr. Deborah's pregnancy notwithstanding, Bobbette insisted Deborah finish high school and get a job, and Bobbette helped take care of Alfred Jr. so Deborah could do so.
1970s–1980s: Henrietta Lacks' Children First Learn About HeLa Cells
It was only in 1973 that the Lackses began to learn what had been done with Henrietta's cells. A geneticist's assistant called the family out of the blue to draw blood—the geneticist was attempting to fight the rampant HeLa contamination of cell cultures—and told Day that Henrietta's cells were still living. However, Skloot's reporting uncovered that the family didn't fully understand either the significance of Henrietta's cells or the geneticist's reason for drawing blood. The family believed they were being tested for cancer—an impossibility at the time—not helping scientists in the fight against cell line contamination.

In June of 1974, Deborah had been called into Hopkins to give more blood, and she took the opportunity to ask McKusick questions about her mother and why the doctors were drawing blood from the family. Rather than answer her directly, McKusick spoke about the contribution Henrietta's cells had made to science; he also gave Deborah a copy of a genetics textbook he'd written that featured a section on Henrietta. The language was far too technical for Deborah to understand, but she fixated on the picture of her mother printed in the book; it was one she'd never seen. She wondered how the doctors had gotten a hold of the picture.

It wasn't until a Rolling Stone reporter named Michael Rogers visited the family in 1975 that Henrietta Lacks' kids and family finally understood the full significance of their mother's cells. At the time, no one besides Deborah was too disturbed by their mother's cells' wide spread. But that changed when Rogers' story was published and the Lackses discovered that HeLa cells were not only distributed for free by nonprofit institutions but also sold by commercial firms.

1990s–2000s: Henrietta Lacks' Children Get Honors for Their Mother
In 1996, finally, Henrietta Lacks' children began to receive recognition on behalf of their mother. The BBC produced a documentary about Henrietta, for which the producers interviewed the Lacks family; and that same year, Roland Pattillo, one of George Gey's few students of color, organized a HeLa conference at Morehouse School of Medicine. The Lackses attended the conference as guests of honor, and Deborah gave a speech to the attendees.

In April 2001, almost a year after Skloot and Deborah finally met in person, Deborah received an invitation to the National Foundation for Cancer Research's annual conference. The conference would be held in Henrietta's honor, and the president would present Deborah a plaque to commemorate her mother's contribution to science. Deborah decided that she needed to see her mother's cells before she attended the conference.

Unfortunately, on the same day that Deborah called Skloot about the conference, she also learned her son Alfred had been arrested. He and a friend had robbed several liquor stores at gunpoint, and the police apprehended Alfred at his house in front of his son, Alfred Jr.

Where They Are Now: Henrietta Lacks' Children in 2009
Deborah's son, Alfred Jr., is serving a 30-year prison sentence for armed robbery and assault. He has earned his GED and has taught GED class to fellow prisoners.
Lacks's sons, Sonny, Lawrence, and Zakariyya were profoundly affected by Deborah's death. Zakariyya achieved inner peace through studying yogis, and he now treats his nieces and nephews with kindness and affection. Lawrence charged over $6,000 to his credit cards to pay for Deborah's funeral. And Sonny has taken over Deborah's quest to raise people's awareness of Henrietta Lacks's contribution to science.
Davon and (Little) Alfred, Jr., along with 22 other descendants of Henrietta, live in Baltimore.
Deborah's ex-husband, James Pullum, still preaches in Baltimore.
What Happened to Henrietta Lacks' Children? Life After Loss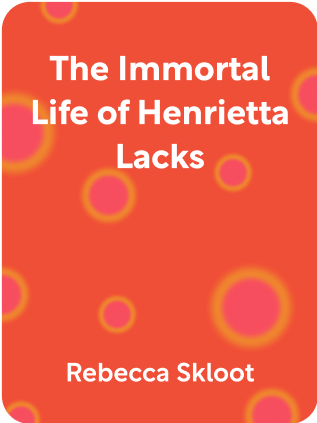 ———End of Preview———
Here's what you'll find in our full The Immortal Life of Henrietta Lacks summary :
How Henrietta's cells became used in thousands of labs worldwide
The complications of Henrietta's lack of consent
How the Lacks family is coping with the impact of Henrietta's legacy