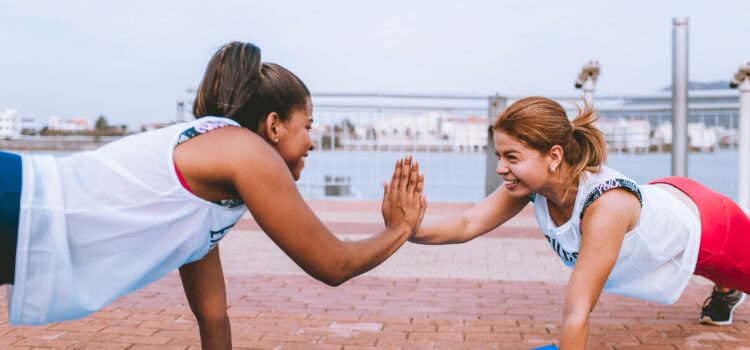 Do you need help picking a fitness app? What are the top fitness and workout apps for beginners?
With so many fitness and workout apps out there, it's easy to get overwhelmed with choices. The best app for your needs is not necessarily the one that has the most features (unless that's what you want!), but one that offers the functionality that is most relevant to your goals. As a beginner, you'll want exercise break-downs, simple routines, and an interface to track your progress, at the very least.
In this article, we've compiled a list of top fitness and workout apps for beginners, detailing their features so you can pick one that best meets your needs.
Best Fitness and Workout Apps for Beginners
By no means you don't need a fancy app to keep up with a regular workout routine, but apps can be useful, especially if you are a beginner. A good workout app is like having a personal trainer in your pocket—it can provide structure, instructions, and a boost of motivation.
Here's our roundup of the top fitness and workout apps for beginners.
Nike Training Club is an all-around fitness app: it offers both workouts and guidance for all fitness levels, goals (flexibility, strength, mobility, etc.), and types of training (yoga, calisthenics, weight training, etc.). If you have an iPhone, you can sync your exercise and heart information with Apple Health. You can also play Apple Music within the app. 
If you prefer yoga to any other type of exercise, check out Alo Moves. The app delivers thousands of classes taught by the world's best instructors. With Alo Moves in your pocket, you'll never get bored of doing the same workout over and over again. Their classes span all styles of yoga you can think of, from vinyasa to kundalini. And if you want to take a moment of mindfulness, there are also guided meditations, breathwork, and even sound baths on offer.
We like Sworkit because it offers something for everyone. Whether you only have five minutes to workout, you prefer working out with or without equipment, or even if you're currently working with a physical therapist, there's a workout on the app suited to your needs. On top of that, Sworkit offers 6-week progression programs in HIIT, Tabata, yoga, Pilates, and more. You can also curate your own workout from over 800 exercises available in the app's database.
Active by Popsugar offers 500+ workouts from celebrity trainers and fitness experts the likes of Anna Renderer, Jake DuPre, and Deja Riley. If you get bored easily, try their exclusive multi-week challenges to keep your mind guessing and your body progressing. Each workout is shown with modifications so you can follow along no matter your fitness level.
Sometimes, working out to videos can be inconvenient and cumbersome. Plus, do you really need a video of someone telling you to push hard or go faster? Aaptiv provides audio-based fitness classes for workouts that just don't make sense for videos, including running, elliptical, stretching, yoga, HIIT, and more. All classes are led by certified trainers to the popular music you already love.
Jillian Michaels is a celebrity fitness trainer who's worked with high-profile celebrities the likes of Pink, Julia Roberts, and Amanda Peet. In her app, you'll find over 1,000 personalized workouts for all fitness levels and body goals. You can choose from HIIT, kickboxing, yoga, and more. You can also create your own workout with 10, 20, 30, and 45-minute options in the Workout Generator.
Couch to 5K provides you with a training plan that gets you from the couch to running a 5K in just 9 weeks. You can select between four coaches (Johnny Dead, Constance, Billie, or Sergeant Block) who will guide you through each training session via audio feedback. The app allows you to calculate distance, track your performance, and map your routes with GPS. There's also an in-app music player to keep you motivated and pumped. 
Sweat: Fitness App for Women is co-founded by world-famous personal trainer Kayla Itsines. Sweat has everything you could want from a fitness app: a broad suite of training programs for all body goals and fitness levels, video demonstrations, exercise modifications, weight and exercise logs, a workout planner, a community to keep you motivated, a hydration tracker, and much more.
If you like a structured and straightforward approach to exercise, you should try Daily Workouts. The app delivers both full-body as well as targeted workouts for each muscle group with or without equipment. All exercises are demonstrated by a certified personal trainer. There is also a timer and on-screen instructions breaking down the mechanics of each exercise so you can learn them with proper form.
Yoga for Beginners is a basic app that provides quick and simple yoga workouts. If you've always wanted to start practicing yoga but felt intimidated by the complexity and the sheer amount of poses, this is the perfect workout app for you. There is only a small amount of simple sequences that include all the basic, foundational yoga poses. You can adjust the number of times you do each sequence.
7 Minute Workouts is a circuit training app designed by Chris Jordan, the Director of Exercise Physiology at the Johnson & Johnson Human Performance Institute. The app allows you to create your own custom workout from 72 exercises plus 22 ready workouts that can be modified to create over 1,000 variations. Watch and follow as the trainer performs the exercises to the count of the timer.
Asana Rebel is a yoga-based workout and wellness app. They offer exercises, workout challenges, healthy recipes, and even sleepscapes and meditations to help you wind down after a long day. If you are looking for an all-around wellness app, Asana Rebel may be just what you need. However, it may be limited if you are looking for workouts other than yoga.
Fit On App is another app that lets you work out with celebrity trainers. They offer a gamut of workout styles including HIIT, cardio, yoga, strength training, barre, pilates, dance, and more.
And if you are looking for targeted workouts for specific muscle groups, definitely check this app out. You can choose the target area (booty, abs, arms, back, legs), time, and intensity, and the app will generate a workout based on these parameters.
Alive is the workout app by popular fitness influencer Whitney Simmons. If you've always wanted to get that toned, beach-body physique, Whitney is your girl because she's focused on getting results. Her app offers several goal-oriented workout programs including Alive Beginner, Alive At-Home, Alive Inside, and Alive Strong. She demonstrates every exercise from multiple angles so you can follow along with the proper form.
8 Fit is a top fitness and workout app by Urbanite Inc. You can choose from 200+ workouts in a variety of categories including HIIT, pilates, boxing, strength, and more. In addition to workouts, 8Fit offers 800+ balanced recipes to support your workout goals. Users are raving about the app, many touting it as the only workout app that helped them keep up with both an exercise routine and healthy eating.
Final Words
There's certainly no shortage of fitness and workout apps on the market. If anything, there are probably too many of them, making it easy to get overwhelmed with choices. If you are a beginner, the struggle is all the more real. To spare you the overwhelm, we've rounded up the top fitness and workout apps for beginners so you can choose one that best suits your needs.
Top Fitness and Workout Apps for Beginners