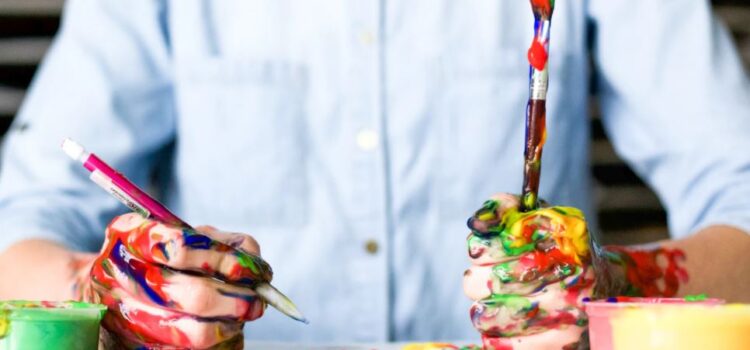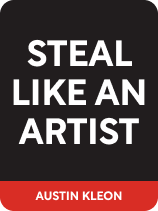 This article is an excerpt from the Shortform book guide to "Steal Like an Artist" by Austin Kleon. Shortform has the world's best summaries and analyses of books you should be reading.
Like this article? Sign up for a free trial here .
Want to know how to steal like an artist? What steps can you follow to increase your creativity and start creating art?
Steal Like an Artist is a brief primer on Austin Kleon's top 10 pieces of advice for aspiring creatives. We've reorganized his 10 ideas into a four-step creative process beginning with the first step: organizing your life for maximum creativity.
Here's how to steal like an artist, according to Austin Kleon.
Step 1: Organize Your Life for Maximum Creativity
The first step in how to steal like an artist is to organize your life. According to Kleon, to do your best creative work, you need to set up the rest of your life to support that creativity. You can do this by prioritizing financial security, setting aside time for your hobbies, and using the right tools. We'll discuss each of these tactics in more detail.
Prioritize Financial Security
Part of prioritizing your creative work is not allowing the rest of your life to get in the way. For that reason, Kleon recommends being proactive about your finances so that you won't be constantly distracted by money worries.
One way to get your finances in order is to find a job outside your creative endeavors. Having a day job provides benefits beyond financial stability: It gives you a routine to build on, so you can easily slot in creative time every day. Furthermore, it maintains your connection to other people who might inspire you.
Set Aside Time for Hobbies (and Boredom)
Although financial security is important, Kleon cautions against spending too much time at work. He recommends finding a hobby—something that you do purely for the joy of it. It doesn't need to be related to your creative work; rather than being a distraction, hobbies will actually improve your creativity because they'll encourage you to draw new connections. For example, if you're an architect, you may not think your birdwatching hobby could have much value for your career—until you draw inspiration from the shape of a bird's nest for your next project.
Between your hobbies, day job, creative work, and necessary life tasks, your schedule could fill up pretty quickly. However, Kleon recommends allowing yourself some time for boredom. Boredom gives your brain the space to be creative because it's not cluttered up with other thoughts. To capitalize on this effect, take advantage of boring tasks like household chores—if you let your mind wander while you tidy up the house, you might come up with a brilliant new idea without even trying.
Use the Right Tools
Kleon's final advice for organizing your life to support creativity is to use the right tools. First, use a calendar to track your creative progress. Kleon recommends crossing off each day on the calendar that you work on your creative projects. Aim to work a little bit every day so that you have an unbroken line of X's on the calendar. The more X's you accumulate in a row, the more inspired you'll be to keep going.
Second, Kleon advises keeping a notebook to record the details of your days. You don't have to write detailed, long-form journal entries—just jot down a few highlights to help you remember the highs and lows of your life and work. Over time, your notebook will become an artifact that tracks your progress as an artist and a person.
Step 2: Surround Yourself With Inspiration
Once you've set up your life in a way that allows you to focus on creating, it's time to start pulling inspiration from the work of other artists. According to Kleon, there is no such thing as a wholly original piece of creative work—every creator is influenced by other creators in some way. Accepting this truth releases you from the pressure of creating something the world has never seen before.
In Kleon's view, once you embrace the creative influence other artists have on you, your job is to curate that influence. Do this by filling your physical and digital spaces with art, ideas, objects, and people that move and inspire you; this will set the tone for your own creative work. On the flip side, if you surround yourself with things that bore or depress you, that will negatively impact your own work.
Where should you start searching for inspiration to surround yourself with? If you're overwhelmed with prospects, Kleon recommends starting by totally immersing yourself in one person's work that deeply moves you. Study everything you can about them as both a person and an artist as you surround yourself with their work. Then, do the same with the people who influenced them. This way, you'll feel connected to other creators, whether past or present.
Step 3: Start Creating
Once you've studied your creative influences in depth, it's time to start creating. If that sounds scary, you're in good company: According to Kleon, many artists feel like they can't make truly great art until they understand exactly who they are as a person and an artist. However, he says the opposite is true: The process of making art is how you'll come to understand yourself. The only way to become an artist is to make art, even if you're not an expert. Therefore, you should jump right in instead of waiting until you feel ready.
Jumping right into creating has another benefit: According to Kleon, it'll help you avoid becoming trapped by "imposter syndrome," which is a persistent feeling that you're not talented enough to succeed. Instead of listening to these feelings, commit to doing creative work regardless of how you feel about your talents.
Start by Copying Other Artists
Kleon believes that the best way to get started as an artist is to copy the work of your creative heroes. Making copies will help you develop a better understanding of how the original creator made that piece of art. For example, if you're learning to paint, you might paint a copy of the Mona Lisa. In the process, you'll have to examine the original work closely, so you'll begin to understand why da Vinci used certain colors in the places he did. Then, when you paint your own, original work, you'll have a better understanding of how to use color.
Keep in mind that, when you copy, your work will inevitably fall short of the original (after all, no novice painter could perfectly reproduce the Mona Lisa on the first try). However, according to Kleon, this isn't a failure—it's the source of your strength. The ways that your copies differ from the original are what make you unique as an artist. Lean into those differences to discover and develop your own creative voice. (This step is also crucial because, if you never add anything unique to your copies, your work will just be a poor imitation of the original instead of something new and transformative.)
Decide What to Make
Once you have a sense of your own creative voice, you'll need to decide what you want to create. Kleon recommends thinking about the kind of art that speaks to you and trying to make it, even if it's not what you're used to. This contradicts the standard advice to "write (or draw or paint or build) what you know," which Kleon believes is a recipe for boring art.
Combine Digital and Analog Tools
Once you've decided what to make, how should you go about making it? If you typically do all your work digitally, Kleon advises getting away from the computer for a while and incorporating an analog component. This will boost your creativity because working with physical materials gives you the freedom to explore possibilities and make mistakes. In contrast, working on a computer makes it too easy to censor your ideas before you can fully explore them. Therefore, Kleon argues that you should only use a computer when you get to the editing stage of a creative project.
To encourage yourself to use physical materials, Kleon recommends dividing your workspace into two zones: one for your computer and any other electronic equipment, and one for whatever materials you use to create (such as pens and paper, clay, or paints). Use the analog zone to explore and brainstorm, then use the digital zone to edit and expand your ideas.
Embrace Limitations
Kleon offers a final tip for creative work: Use constraints and limitations to your advantage. Having limited resources actually boosts creativity, so embrace the challenge. In fact, if you're in a creative rut, you can even arbitrarily add a limitation (for example, by challenging yourself to cook a meal using only the ingredients you already have on hand). As an added bonus, this also makes your work more interesting—people will marvel at how you did so much with so little.
Step 4: Share Your Work
Once you've made something you're proud of, you'll naturally want to share it with others—however, Kleon cautions against rushing into this step because anonymity is an asset for beginner artists. Right now, you have the freedom to experiment as much as you like because no one is expecting anything specific from you. However, once you're a big-name artist, that freedom will disappear because people will expect you—and pay you—to keep producing one particular kind of art.
Use the Internet to Share and Connect
Once you're ready for people to see your work, the internet is the best tool at your disposal because people from all over the world can easily find your work. Kleon recommends creating a website and a social media presence. Share your completed work as well as some glimpses of your creative process so that others can learn from you (and you can learn from them).
In addition to sharing your work, the internet is a great place to connect with other creative people. Kleon recommends using social media to find people doing work that inspires you. Then, spark up a friendship by complimenting them. If you want to express your appreciation for an artist (whether well-known or not), Kleon recommends posting a public tribute to their work on your website or social media account rather than messaging them privately. That way, the artist will feel appreciated but won't feel pressured to respond.
How to Handle Criticism
As you interact with people online, keep in mind that you can't please everyone. If someone doesn't like your work, ignore them and refocus on the process of making your art. If their words make you angry, all the better: Kleon argues that anger is an excellent motivator for creative work. He advises channeling that anger into making even greater art rather than wasting the motivation on arguments with people online.
However, Kleon acknowledges that we're not made of stone, and shaking off rejection or criticism is easier said than done. For that reason, he recommends saving every complimentary email or message you get in a folder that you can revisit when you need a reminder that people appreciate your work.
How to Steal Like an Artist: 4 Steps to Boost Creativity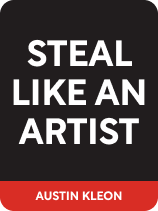 ———End of Preview———
Here's what you'll find in our full Steal Like an Artist summary :
Tips for maximizing creativity, finding inspiration, and breaking out of a creative rut
How copying others' art can improve your own
Why you should be cautious about sharing your art online