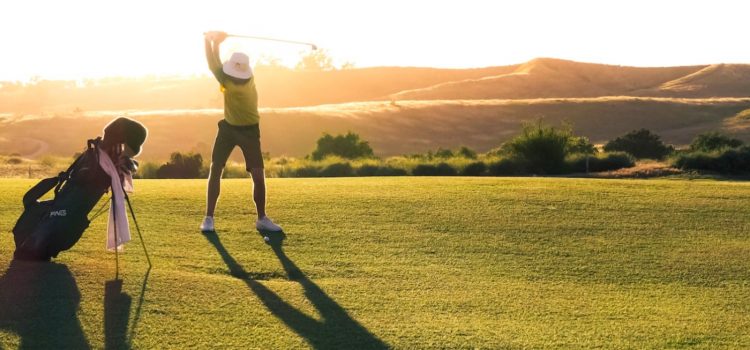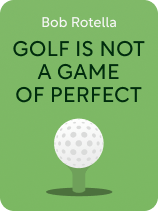 This article is an excerpt from the Shortform book guide to "Golf Is Not a Game of Perfect" by Bob Rotella. Shortform has the world's best summaries and analyses of books you should be reading.
Like this article? Sign up for a free trial here.
Are you struggling at golf? How can you hit a perfect golf shot?
Golf isn't an easy sport to play, but with the right mindset and time, anyone can become an expert. In Golf Is Not a Game of Perfect, Bob Rotella says that to hit the perfect shot, all you have to do is be in the right frame of mind.
Keep reading to learn how to get the perfect shot and impress other players.
Envision Your Perfect Shot
Rotella argues that you should choose to think about the kind of shots you'd like to hit. By envisioning your perfect golf shot, you'll put yourself in the right frame of mind to hit the ball well.
(Shortform note: The power of visualizing your shot is an effective strategy in basketball as well as in golf. Studies have shown that in basketball, visualizing your success can be almost as impactful as practicing.)
Envisioning the perfect shot starts when you choose a target. Rotella recommends that you choose a target that is as small and distinct as possible. According to Rotella, your mind functions best when presented with a small, clear focus. Additionally, when you choose a small target, you have a much greater margin for error than when you choose a large one. For instance, if you aim for a boulder that marks the dead center of the fairway, and you miss by five yards in any direction, you'll still be in the fairway. However, if you decide to aim more generally for the entire fairway, missing the target even slightly to either side means you'll end up in the rough.
(Shortform note: While Rotella's approach to aim requires intently focusing your mind on your target, experts argue that it's also important to align your body with the shot you'd like to hit. By keeping your shoulders, hips, and feet in alignment and making sure they're creating a line that runs parallel to your intended shot path, you increase the chances that the ball will go where you want it to.)
Use a Practice Sequence to Focus Before Shots
Once you've chosen a suitable target, the next step is to go through a practice sequence that helps you envision and prepare for the shot you'd like to hit. Doing the same sequence before each shot can help you relax, focus, and swing with confidence. The details of the sequence aren't as important as doing the same procedure consistently. By doing the same thing before each shot, you build muscle memory and naturally encourage your body and mind to prepare for the task at hand.
Due to the large number of shots in any given round of golf, choose a sequence that is short, simple, and easy to follow anywhere on the course. An example sequence might be as simple as standing behind the ball and choosing a target, putting on your glove, stepping up to take a few practice swings, and hitting the ball.
While you should do your best to keep your sequence short, never pressure yourself to swing before you're ready. Take the time and practice you need to feel confident, and then swing.
Why Hitting the Perfect Golf Shot Is Both Mental and Physical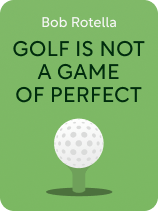 ———End of Preview———
Here's what you'll find in our full Golf Is Not a Game of Perfect summary:
A framework for improving the mental side of your gold game
Why thoughts, confidence, and strategy are more important than your swing
Techniques for choosing the right thoughts, goals, and shots