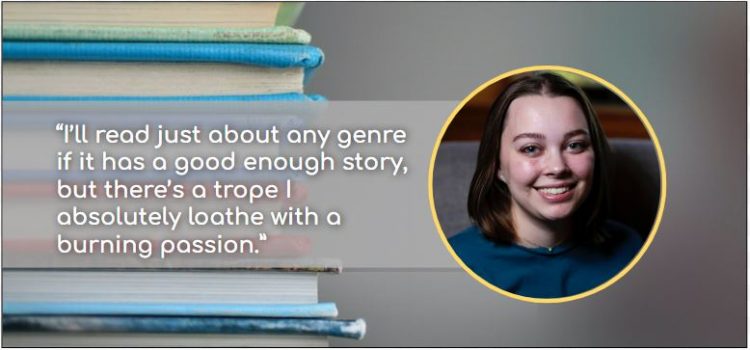 What book trope does Katie try to avoid? What two books does Katie believe should be taught in high school?
Katie is a Shortform blog writer based out of Tennessee. She writes blog articles both about Shortform guides and about various topics including social trends and the entertainment industry.
Our Interview With Katie
Katie used to love fantasy books, but now she prefers stories that are more grounded. Here's our interview with Katie.
What's your favorite book and why?
This is always such a difficult question. It's like picking a favorite song—there are just too many! I don't have a favorite book of all time, but in recent years, A Little Life has always resonated with me. But it's a book I recommend with caution—there's dark subject matter that even I was troubled by. Nonetheless, it was a beautiful story about friendship and human nature.
What's on your reading list these days?
I recently read Verity by Colleen Hoover. It's more of a psychological thriller than the typical romance novels she writes. It was definitely different, but it also made me realize that I'm not particularly fond of her writing style. I don't know if I'm going to revisit her books in the future.
Next on my reading list is My Year of Rest and Relaxation by Ottessa Moshfegh. My goal this year is to get through most of the "TikTok books," which are just the most recommended books on the platform. I've had my eye on this book for a while, so I'm really excited to start.
If you could have a dinner party with any three authors—dead or alive—who would they be and why?
Definitely Mary Shelley, Percy Shelley, and Lord Byron. I feel like those three together have some juicy gossip and great horror stories to tell. Although, I'd leave before things start to get a little too crazy. Their get-togethers were notoriously extreme.
Are there any book genres or tropes that you dislike or refuse to read?
I'll read just about any genre if it has a good enough story, but there's a trope I absolutely loathe with a burning passion: the unplanned pregnancy trope. I think pregnancies can have a place in stories, but oftentimes they're used only when the author doesn't know how to raise the stakes for the main character. If the third act of a book surprises me with a pregnancy, I'm instantly knocking off a star on my Goodreads review.
What's your favorite way to read a book?
I'm gonna be old-fashioned here, but I really do prefer a physical copy over anything else. I tried audiobooks in college to get through all the required readings, but I prefer to read the story in my own voice.
What book or books do you think everyone should read in their lifetime?
The God of Small Things by Arundhati Roy and Nervous Conditions by Tsitsi Dangarembga. These were required readings in my World Literature class in college, and I'm really glad they were. I don't know if high school reading lists have changed since I was in school, but they weren't diverse, and the books were mainly written from a white perspective. Some people aren't ever going to read books outside of high school English classes, so it's important to read about different experiences and cultures when you can. These two books in particular were ones that I re-read and really enjoyed.
How have your reading tastes changed over the years?
I used to be really into fantasy dystopian novels when I was younger, but I've definitely grown out of those genres. People always recommend fantasy novels to me but, these days, I'm more into grounded, down-to-earth character pieces. That's not to say fantasy dystopian novels can't have that, but those books require a lot of world-building that I find suffocating.
Was there a specific book that sparked your love of reading?
Like most of my generation, it has to be Harry Potter. I remember reading the first book in third grade with the rest of my class, and I absolutely hated it—for reasons I can't remember. Then, in the summer going into seventh grade—which was around the time the last movie was coming out in theaters—I binge-watched the entire film series on ABC Family, which is Freeform now.
I became obsessed, probably because it was a form of escapism in my middle school years. I checked out all the books in the library over the summer. From there, my middle school years were full of Harry Potter, Twilight, Percy Jackson, and Hunger Games.
Do you have any guilty pleasure books?
I'm not sure if this fits into the category of guilty pleasure books, but I think, in general, there's a stigma against TikTok book recommendations because they're popular. But those recommendations sparked my love for reading again, and I don't have the time to browse books at a library or Barnes and Noble. Also, Twilight. I'm not ashamed!
What's an interesting fact that you learned from a book recently?
I recently did blogging work for The Toyota Way, which talks about Toyota's history and how the company runs. Apparently, Toyota wasn't a car company at first—it started out as an automatic loom business. Sakichi Toyoda invented a steam-powered loom to save his mother and grandmother from having to spin wool manually.
Have any books you've read caused you to make any life changes or to change or develop any habits?
The Seven Husbands of Evelyn Hugo is based around Evelyn telling a journalist her life story and putting a personality to a famous face. It really got me into celebrity profiles and reading about journalists' experiences spending a day with these high-profile celebrities. The profiles either reveal how down-to-earth these people are—or just how out of touch they are with reality.
One of my favorite celebrity profiles I've read so far is The New Yorker's "On 'Succession,' Jeremy Strong Doesn't Get the Joke." You learn a lot about his weird acting methods and his early career which is … quite colorful.
What's your favorite quote from a book or an author?
"I'm not a religious person, but I do sometimes think God made you for me." (Sally Rooney, Normal People)
Once I got over the book's lack of quotation marks, I couldn't deny the beauty of Sally Rooney's dialogue.
What are your favorite book adaptations and why?
Harry Potter, Sharp Objects, and The Umbrella Academy—which is technically a comic, but it still counts in my mind. Game of Thrones is also a favorite, just because the books are so dense and difficult to get through. I know the last season has gotten a lot of flack, but the show is easier to follow and much more captivating. Although, it bugs me how much of the lore from the books isn't even in the show.
At Shortform, how do you go about working on a book that has viewpoints you don't agree with?
I just have to remind myself that it's not my job to share my opinion on a particular book I'm blogging about. For instance, I don't agree with Rollo Tomassi's views on feminism in The Rational Male, but I had to write about his opinion, not my own. If we limited ourselves to reading books we agreed with, we wouldn't have that many books to write about.
What are your favorite books in the Shortform library?
Maid by Stephanie Land, Educated by Tara Westover, and Catch and Kill by Ronan Farrow. I'm a sucker for memoirs that describe people's impossible—but real—experiences. I may not be able to relate to their stories, but I really get the sense that I'm on this journey with them.
Katie's Book Recommendations
A Little Life by Hanya Yanagihara
The God of Small Things by Arundhati Roy
Nervous Conditions by Tsitsi Dangarembga
The Seven Husbands of Evelyn Hugo by Taylor Jenkins Reid
About the Series
At Shortform, we want to give our employees names and faces so you can get to know the people who make the magic happen. That's why we're doing the Shortform Reads series, where we interview our employees and share their thoughts and opinions. You can check out more employee interviews here.
Shortform Reads: Trading Fantasy for the Real World