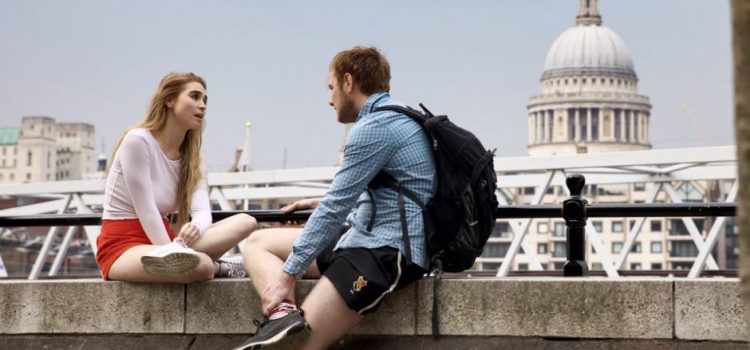 Do you find it difficult to talk to strangers? How do you move the conversation beyond superficial details and get more personal?
When people first meet each other, the conversation typically revolves around their background and what they do for a living. After that, the conversation often stalls or dies out. To keep the conversation going, prepare stimulating responses to common questions.
Here's how to strike up a conversation with a stranger, according to communications expert Leil Lowndes.
How to Talk to Strangers
When people first meet each other, they usually ask two questions: "Where are you from?" and "What do you do?" Normally, they each respond with fact-based answers—for example, "I'm from New York and I'm an engineer." But this sort of answer shuts down a conversation—if your conversation partner's never been to New York or knows nothing about engineering, they won't know how to continue the conversation.
In her book How to Talk to Anyone, Leil Lowndes explains how to strike up a conversation with a stranger and keep it going. To that end, Lowndes suggests extending your responses to these two questions in a way that stimulates a response—by using interesting facts, jokes, or general observations. This requires coming up with different variations depending on who you're talking to and the social context you're in. If you're seeking to make friends, keep your responses fun and general. For example, "I'm from X—where they make the best goat's cheese in the world." If you're talking to them for networking purposes, consider what interest this person could have in you or your work and include that in your response. For example, "I'm an engineer and have been working on X for the past two years."
(Shortform note: If you're struggling to come up with stimulating ways to respond to these two questions, reframe your answer to divert the conversation to topics you'd prefer to talk about. For example, respond to "Where are you from?" by saying, "I'm from X but I moved to Y because Z." Respond to "What do you do?" with "I work in X but lately I've been spending my time doing Y because Z. How do you spend your time off?" This diversion tactic lets you avoid unwanted questions and it helps you to move the conversation to topics you'll find more comfortable and engaging.)
How to Strike Up a Conversation & Keep It Going