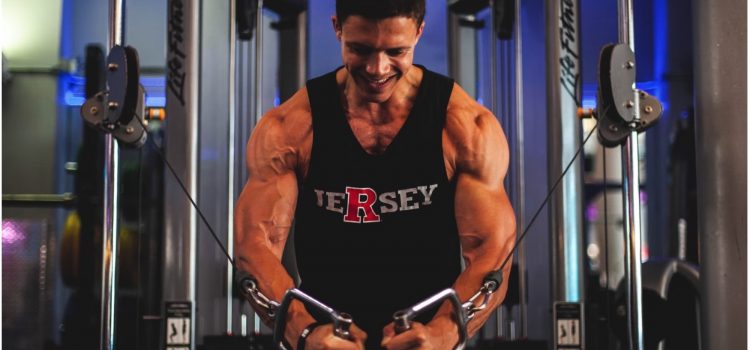 Do you want to learn the basics of bodybuilding training? What are the best bodybuilding resources for learning or improving your bodybuilding routine?
There are plenty of bodybuilding resources these days, which means learning how to be a bodybuilder is more accessible and affordable than ever before. However, if you want to teach yourself bodybuilding techniques, it's important to find reliable information that has a track record of getting results. The best bodybuilding resources are created by fitness and nutrition experts who have experience in strength training and competitive bodybuilding.
Keep reading for our picks of the best bodybuilding books, blogs, and podcasts to follow now.
What Is Bodybuilding & Why Do People Bodybuild?
What is bodybuilding? Bodybuilding is a sport where participants develop and grow their bodies through exercise and diet. While many bodybuilders aim to compete in bodybuilding competitions, others choose to take up bodybuilding for personal reasons, like enhancing their aesthetic, fitness level, or ability to play certain sports.
The first bodybuilding championship in the world is believed to have happened over 100 years ago. The organizer, Eugene Sandow, has become a legend in the history of bodybuilding, but these days, the demands on bodybuilders have increased exponentially. Whether you want to learn bodybuilding as a hobby or for competitions, achieving the modern bodybuilder's aesthetic requires extreme devotion to learning about and training your body.
Bodybuilding comes in different forms. While there are numerous forms of bodybuilding depending on where you are in the world, the primary forms are determined by your physique and bodybuilding competition requirements. The four most recognized bodybuilding forms are Men's Physique, Classic Physique, 212 Olympia, and Men's Open Division. Female bodybuilding also has its own categories and requirements.
Why do people bodybuild? For some, bodybuilding is seen as the ultimate form of physical training. Achieving your peak physical condition, whether to display your hard work on a competition stage or to simply feel great about yourself, is what drives bodybuilders to train. Many bodybuilders love the challenge of continually beating their best and learning to push their limits physically and mentally.
For the ultimate list of bodybuilding resources to use as you progress on your fitness journey, here are Shortform's picks of the best bodybuilding books, blogs, and podcasts.
Best Bodybuilding Books
There's no shortage of books on bodybuilding, but with so many to choose from, it's hard to know which bodybuilding books will actually help you. To choose the best bodybuilding books, we looked at the author's experience in strength training, anatomy, nutrition, and contest prep. The best bodybuilding books are written by authors who have dedicated their lives to the art of bodybuilding.
These are our top picks for the best bodybuilding books to read for beginners and experienced bodybuilders alike.
The New Encyclopedia of Modern Bodybuilding
Known as the "bible of bodybuilding," Arnold Schwarzenegger wrote this book for anyone who uses weights in workouts. The New Encyclopedia of Modern Bodybuilding covers all the basics you need to know as a bodybuilder, including weight training, competitive bodybuilding, diet, common injuries, and more. With over 6,000 five-star reviews on Amazon, this book is worth reading whether you're new to bodybuilding or a seasoned champion.
Bodybuilding: The Complete Contest Preparation Handbook
Written by professional natural bodybuilder Cliff Wilson and contest prep coach Peter Fitschen, this is the book that will teach you how to perform at your best in bodybuilding competitions. Bodybuilding: The Complete Contest Preparation Handbook was created to show you each step in the competitive bodybuilding process, from selecting a competition to contest preparation and tips for performing on stage.
Author Tim Ferriss wrote The 4-Hour Body to share his research in scientific literature, interviewing experts, and self-experimentation. The book's title comes from a 28-day experiment in which he spent only four hours total in the gym but lost three pounds of fat, gained 34 pounds of muscle, and decreased his total cholesterol. His suggestions are small, straightforward, and easy to adhere to for anyone looking to improve their bodybuilding physique.
Author Frédéric Delavier is an expert in anatomy. Previously writing for publications like Men's Health Germany and Ironman, Delavier wanted to create a book that explains the anatomy behind bodybuilding. Strength Training Anatomy includes over 600 illustrations of the body to teach you exactly how to build muscle groups by following the book's strength training advice paired with amazing visual details.
Delavier's Women's Strength Training Anatomy Workouts
This book is praised by reviewers for its detailed explanations of exercises for female bodybuilders. With in-depth information on how to create a training program and illustrated exercise routines, this book has everything you need to begin or polish your strength training routine as a woman. The book includes 157 exercises and 49 programs for sculpting the entire body based on colorful illustrations of female anatomy.
Train Like a Bodybuilder is a great option for anyone interested in natural bodybuilding. Two-time Ms. Figure Olympia Erin Stern wrote this book to teach readers how to plan workouts and eat like a bodybuilder, including step-by-step photos of exercises that target all major muscle groups. Stern focuses on the mind-body connection that top performers foster to achieve their ideal physique.
Written for the true bodybuilding beginner, this book's goal is to teach anyone how to bulk up quickly. Author Kyle Hunt's 12-week program is designed to be a quick-start guide for prospective bodybuilders who want to learn all the basics of strength training. Bodybuilding For Beginners is praised for being comprehensive enough that it will be the only bodybuilding resource you need as a rookie bodybuilder.
Based on the principle that every bodybuilder will eventually encounter injuries in their routine, Rebuilding Milo explains the best of Dr. Aaron Horschig's methods for dealing with common bodybuilding injuries. As a competitive weightlifter, Dr. Horschig understands the frustration of waiting for a doctor's appointment, being told to take time off training, and being prescribed painkillers. To remedy this, his book teaches you how to identify your injuries and then customize your own rehab program.
Author Michael Matthews wants you to eat what you enjoy and avoid grueling workouts while still building your ideal body. Bigger Leaner Stronger has earned nearly 9,000 five-star reviews on Amazon thanks to its simple approach to bodybuilding. The book aims to demystify complex bodybuilding techniques, including nutrition and the struggle with "clean eating," to show readers that transforming their bodies is easier than they may know.
The Year One Challenge for Men
The Year One Challenge for Men teaches beginning bodybuilders how to gain 25-35 pounds of muscle through an entire year's worth of workouts. The best part? The book's program is designed for strength trainers to spend only three to five hours exercising per week. Designed as a companion to author Michael Matthews' Bigger Leaner Stronger, it includes a "cheatsheet" for personalizing your training based on all the workouts in Matthews' program.
The Bodybuilding Meal Prep Cookbook
This book is helpful if you want to know exactly how to meal prep like a bodybuilder. Nutrition expert Michelle Vodrazka is also an experienced bodybuilding contest prep coach, and The Bodybuilding Meal Prep Cookbook shows you exactly how to meal prep through Vodrazka's six-week meal plan. Each meal has an in-depth nutrition breakdown and the book details everything you need to do, from a shopping list to cooking equipment, so you can avoid the hassle of planning your own bodybuilding diet.
Best Bodybuilding Blogs
What are the best bodybuilding blogs? Blogs are an excellent resource for bodybuilders who want quick access to expert advice. The best bodybuilding blogs have a variety of content and trusted authors who have experience in the fitness industry.
Here's our collection of the best bodybuilding blogs for all your fitness needs, from bodybuilding diets to beginner's guides.
Awarded the title of "Most-Visited Fitness Site Worldwide," the Bodybuilding Blog has over 19,000 articles relating to all things bodybuilding, including recipes and workout videos. This blog is a comprehensive guide for anyone who wants to stay updated on the latest bodybuilding advice. Their blog sections include information on training, competition, health & science, nutrition, and female bodybuilding.
The Simply Shredded blog features engaging articles on bodybuilding training and nutrition. A big plus for readers is the blog's Motivational Corner and interview articles that are meant to help you stay inspired while you train. The motivational section includes videos, galleries, and "golden era" motivation for seeing the physical transformations of other bodybuilders.
This blog has a collection of expert bodybuilding guides designed to teach you how to bodybuild in a straightforward way. Anabolic Bodies has a helpful blog menu that asks you what your fitness goals are, like building muscle or burning fat, and then suggests articles based on your goals.
Diet and nutrition are equally as important to bodybuilding as strength training. The Bodybuilding Dietitians blog offers evidence-based dietary advice from professionals. The blog's authors are both physique athletes who coach clients by customizing their nutrition and training programs.
T Nation is a popular name in the bodybuilding community with the slogan "The World's Trusted Community for Elite Fitness." The articles on the T Nation blog cover an impressive range of topics, including training, supplements, nutrition, videos, and more. The community aspect of the blog, where readers can post questions and get advice, is a uniquely helpful feature of T Nation.
The Muscle and Fitness blog creates a personalized experience for readers. With over 1,000 exercises to browse, the creators made a search function where you can find articles based on your bodybuilding skill level, desired exercise type, the body part you want to train, and the equipment you want to use. These features make the blog a great resource for planning your workouts.
The Crazy Bulk blog was created as a companion to the blog's primary product, a series of bodybuilding supplements for bulking, cutting, or strength. In addition to covering common topics, the blog also includes sections for articles about testosterone, supplements, and steroid alternatives.
Ironmaster is known for its innovative strength training equipment, but the Ironmaster blog holds its own as a guide for bodybuilders looking to learn about various exercise techniques, dieting, and tips for incorporating new equipment into their routines. From overcoming plateaus to weight vest workouts, the Ironmaster blog covers a unique range of topics.
Written for natural bodybuilders and not focused on trendy fitness industry advice, the RDL Fitness blog guides those who want to build a classic physique using modern techniques. In addition to natural bodybuilding advice, author Ryan Lingenfelser writes articles on the psychology of bodybuilding after learning the importance of pursuing a purpose in his routine.
The IronMag blog has existed for over 20 years and has over 6,500 articles. The blog prides itself on being an independent publication in the fitness industry and is trusted for its expertise in bodybuilding. As well as covering general bodybuilding topics, the IronMag blog also includes coverage of bodybuilding current events, like competition updates and personal stories on well-known bodybuilders.
Best Bodybuilding Podcasts
Bodybuilding podcasts are a popular option for on-the-go learning. Whether you want to put on a bodybuilding podcast while you're working out or just driving to work, these are the best bodybuilding podcasts for keeping you motivated in and out of the gym.
Here's our selection of the best bodybuilding podcasts in 2022.
Professional bodybuilder Fouad "Hoss" Abiad hosts the Real Bodybuilding Podcast, teaching listeners what goes on behind the scenes of prepping for bodybuilding competitions. According to Abiad, his podcast aims to show listeners who bodybuilders are and how they think by presenting interviews and discussions with other bodybuilding athletes.
The 3D Muscle Journey podcast is all about authenticity and building a community for bodybuilders to share in discussions of their fitness journeys. With a focus on natural bodybuilding, this podcast is helpful for learning evidence-based information on what it takes to compete presented in an inspirational way.
The Bodybuilding Dietitians Podcast
Hosts Tyarra Nelson and Jack Radford-Smith are both nutritionists as well as competitive bodybuilding athletes. Listeners can trust that they're getting expert-level advice on bodybuilding nutrition, dieting, meal planning, and answers to common bodybuilding diet questions.
An interesting take on a bodybuilding podcast, Grow or Die creates episodes about bodybuilding basics, like nutrition and training, with a small twist—a business owner's mindset. Host Justin Mihaly takes a laid-back approach to podcasting, connecting with listeners through conversational topics, like "What Grinds Our Gears" or "Talkin' Trainin'."
The Revive Stronger Podcast is a great choice if you enjoy listening to experts talk about bodybuilding techniques, evidence, and industry knowledge. Featuring some of the world's top athletes and fitness experts, the episodes examine interesting topics, like science-based evidence on nutrition and competing opinions on training techniques.
Host Hany Rambod has an impressive list of bodybuilding accomplishments, including coaching 19 clients who won Olympia titles. In The Truth with Hany Rambod podcast, Rambod and his co-host David talk with special guests about not only bodybuilding and coaching, but also personal interests, like cars and entrepreneurship.
Host Ben Pakulski, named "the world's top authority on intelligent muscle building and fat loss," hosts the Muscle Intelligence Podcast where he records weekly interviews with experts from a range of scientific disciplines. This podcast is helpful if you're aiming to optimize your training with expert-level advice from the industry.
With the aim of creating a unified philosophy on weightlifting, hosts Eric Helms and Omar Isuf made the Iron Culture podcast to help listeners find more meaning in their strength training. Helms and Isuf analyze the culture behind lifting, claiming the community has become fractured over the decades. Listeners can expect to hear a variety of topics covered, including historical, philosophical, and scientific discussions of bodybuilding.
Jeff Nippard is well-known for being a professional natural bodybuilder. In his podcast, he interviews industry-leading experts about everything from posture to how hard you should train depending on your level of skill. As an internationally qualified powerlifter, Nippard provides excellent commentary on several in-demand topics.
The Barbell Medicine podcast combines advice on strength training, nutrition, and medicine to show listeners the truth behind modern medicine's impact on bodybuilding. From reviewing data on nutritional supplements to asking doctors frequently asked questions, this podcast will satisfy your curiosity about all things bodybuilding and sports medicine.
Final Words
The best bodybuilding resources can be used by both total beginners and seasoned bodybuilders by offering comprehensive yet straightforward advice. Whether you're just beginning or you've hit a plateau in your bodybuilding routine, these bodybuilding books, blogs, and podcasts can help you overcome your fitness challenges.
As you pursue bodybuilding either as a hobby or professionally, remember to be cautious of injuries and common bodybuilding mistakes to avoid slowing down your progress.
Did we miss out on your favorite bodybuilding book, blog, or podcast? Let us know in the comments!
Best Bodybuilding Books, Blogs, & Podcasts