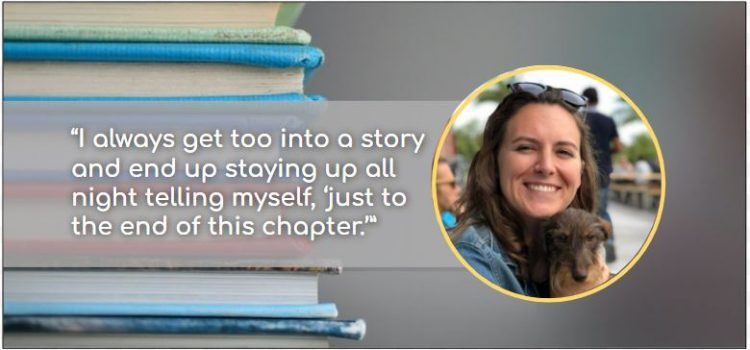 What book did Tess play hooky from school to read? What two books helped her fight her tendency to become distracted?
Tess is an ex-pat living her best life in France. She's an editor, a writer, and a mentor to new Shortform writers.
Our Interview With Tess
Let's see what Tess had to say about her ever-evolving reading tastes, her love of Jack Kerouac, and more.
What's your favorite book?
It's impossible for me to pick a favorite book—usually, it's whatever I've most recently read and loved! If I had to pick my current favorite, I'd say Alibis: Essays on Elsewhere by André Aciman. Something about his writing absolutely transported me in a rare and magical way.
What are you reading these days?
The last book I read was The Midnight Library by Matt Haig, and I loved it! I'm currently reading On Earth We're Briefly Gorgeous by Ocean Vuong. I haven't chosen my next book yet, but rest assured I have a huge TBR pile to pick from!
What's your favorite genre?
My overall favorite genre is the non-fiction essay—I'm always surprised by how much story writers can fit into so little space, and how intensely personal experiences can feel universal. My current favorite genre is mystery. My sister-in-law lent me a murder mystery book last summer, and it got me hooked!
Are there any book genres or tropes that you dislike or refuse to read?
I generally don't go for self-help books that depend on vulgar language to stand out. I find that, often, the content in these types of books isn't anything new and the edginess is just an attempt to mask that. I'd much rather read tried-and-true advice from a book that doesn't feel like it's hiding itself.
What's your favorite way to read a book?
I love physical books! My ideal reading scenario is having a day with absolutely nothing scheduled, going for a walk, sitting down somewhere sunny, and reading for as long as I want. I'd love to be a person who reads before bed, but I always get too into a story and end up staying up all night telling myself I'll read "Just to the end of this chapter."
How have your reading tastes changed over the years?
I go through rather intense periods of interest. When I was a kid, I was absolutely obsessed with historical fiction and read all of the books in the Royal Diaries series. Toward the beginning of college, I absolutely adored Jack Kerouac and the Beat Generation—as a freshman, I convinced a professor to let me into a senior-level Kerouac seminar! As I followed my creative writing studies, I continued to love Kerouac but focused most of my reading and writing on non-fiction essays. That followed me until about a year ago, when I started actively seeking out more fiction and mystery to add to my bookshelf.
Was there a specific book that sparked your love of reading?
The Secret Life of Bees by Sue Monk Kidd is the first book I remember absolutely gripping me—I learned what "I just couldn't put this book down" really meant. Another that comes to mind is Extremely Loud and Incredibly Close. It's the first book that I played hooky from school to finish reading.
What's an interesting fact that you learned from a book recently?
I'm not really sure it counts as a "fact," but I recently edited a guide to Deepak Chopra's The Seven Spiritual Laws of Success and learned about his theory that everything in the universe is connected by a spiritual energy that contains everything that's ever been and will ever be. This connection to everything means that anything you put out into the universe—good thoughts, love for others, fear—is reflected back to you. I'm not sure how on board I am with the theory, but I thought it was an interesting way to think about the constant, ever-reforming energy of the universe.
Have any books you've read caused you to make any life changes or to change or to develop any habits?
Yes! "Distraction" is my middle name, so I jumped at the chance to work on guides to Indistractable by Nir Eyal and Deep Work by Cal Newport. Both of these books taught me invaluable methods to reflect on the underlying causes of my distraction—which is triggered internally much more than externally—find ways to manage it, and carve out time and space for productive work, meaningful relationships, and true downtime.
What's your favorite book quote?
"Hello, babies. Welcome to Earth. It's hot in the summer and cold in the winter. It's round and wet and crowded. At the outside, babies, you've got a hundred years here. There's only one rule that I know of, babies—God damn it, you've got to be kind." (Kurt Vonnegut, God Bless You, Mr. Rosewater)
"How easy it is to touch lavender. To think I fussed so much and for so long—and yet here it is, given to me, the way gold was given to the Incas, who didn't think twice before handing it over to strangers. There is nothing to want here. Quod cupio mecum est. What I want, I already have." (André Aciman, "Lavender," Alibis: Essays on Elsewhere)
Are there any lesser-known books that you've read that you want others to know exist?
I'm not sure it's everyone's cup of tea, but I adore The Ecco Anthology of International Poetry. This is where I've found many of my favorite poems. The poems tell stories from all over the world and give such interesting, beautiful, and sometimes heartbreaking perspectives on different time periods, events, and places.
At Shortform, how do you go about working on a book that has viewpoints you don't agree with?
I approach it as a learning experience. Working on these types of books gives me a more well-rounded understanding of the issue discussed and how "the other side" thinks. Interestingly, I've found that this has altered the way I engage in arguments outside of Shortform. I'm a bit more patient and generous when talking to people whose views oppose mine, and I ask more questions to see where their arguments are coming from.
Tess's Recommended Reading
Alibis: Essays on Elsewhere by André Aciman
The Midnight Library by Matt Haig
The Secret Life of Bees by Sue Monk Kidd
Extremely Loud and Incredibly Close by Jonathan Safran Foer
Indistractable by Nir Eyal
Deep Work by Cal Newport
About the Series
Here at Shortform, we want to give our employees names and faces so you can get to know the people who make the magic happen. That's why we're doing this series where we interview our employees and share their thoughts and opinions. You can check out more employee interviews here.
Shortform Reads: Playing Hooky to Finish a Book