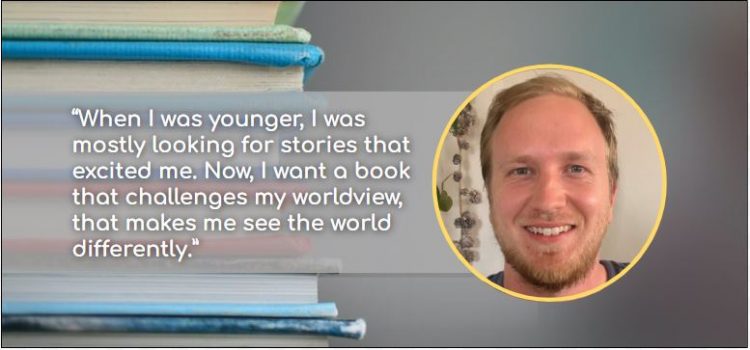 What book changed the way Kevin feels about reading? What series will Kevin always have a soft spot for?
Kevin is a Shortform guide writer from North Carolina. He's always loved books, but his tastes have changed over the years.
Our Interview With Kevin
We interviewed content writer Kevin and learned about his reading tastes, favorite authors, guilty pleasures, and more. Here is our interview with Kevin.
What's your favorite book and why?
This is hard to say definitively, but I'll mention two of my favorites by the same author, George Saunders's Tenth of December and Lincoln in the Bardo. The first is a collection of short stories, equal parts funny, contemplative, tender, and downright absurd. The stories in Tenth of December are a masterclass in contemplating big issues in subtle ways and finding meaning and beauty in the tiniest of details. Lincoln in the Bardo, a novel, weaves together historical accounts of Abraham Lincoln and speculative fiction to make something beautiful and unique. Again, Saunders shows his penchant for humor and absurdity.
What are you reading these days?
I recently finished Carl Sagan's The Demon-Haunted World, and I am currently reading Pedagogy of the Oppressed by Paulo Freire. Soon, I'd like to read a Toni Morrison novel, either The Bluest Eye or Beloved.
If you could have a dinner party with any three authors—dead or alive—who would they be and why?
Frederick Douglass—brilliant mind, amazing human. Virginia Woolf—again, brilliant, once-in-a-generation mind. And Walt Whitman—interesting, compassionate, and full of wonder at the beauty of the world around us.
What's your favorite genre and why does it intrigue you?
As a creative writing major, I still haven't gotten over my obsession with short fiction. The best short stories are remarkable works of art. As much as I love a great novel, I'm even more amazed at a twenty-page story that can feel as vital and profound as a book that's fifty times longer. On top of that, I can reread my favorite short stories over and over again, taking in something new each time.
Are there any book genres or tropes that you dislike or refuse to read?
I hesitate to say I would refuse to read something, but I don't have much interest in books on spirituality or religion. I'm not a very spiritual or religious person, and while I fully support people who gain something valuable from these kinds of books, I'm not sure I'll ever be able to get past my own skepticism toward spiritual ideas and teachings.
What's your favorite way to read a book?
I still prefer a paperback copy of a book. My ideal setting for reading would be early in the morning, in a cozy spot with natural lighting, and a warm coffee next to me.
What book or books do you think everyone should read in their lifetime?
The book I'm reading and researching now, Carl Sagan's The Demon-Haunted World, seems incredibly relevant and essential. Somehow both unsettling and uplifting, Sagan sees a lot wrong with the way our world is heading, but he also gives some achievable solutions to our many problems and maintains hope for a better future.
I'd also recommend Song of Solomon by Toni Morrison. Her depiction and questioning of American values and the exquisiteness of her prose make it a must-read for any lover of fiction.
Who are your favorite authors? Why?
I generally like authors who are unique and capable of writing about the ordinary and the profound with equal aplomb. Writers like George Saunders, Lorrie Moore, Toni Morrison, Joan Didion, Leo Tolstoy, Virginia Woolf, and Raymond Carver, among others.
How have your reading tastes changed over the years?
I think the biggest change in taste from my younger years is what I look to get out of reading. When I was younger, I was mostly looking for stories that excited me. The main priority was entertainment. If the book happened to give some profound insights into the human condition, that's great, but first and foremost it needed to provide joy and comfort. Now, I seek out the connection with the author that a great book provides. What brings me joy now is the connection with the characters or a change in perspective. I want a book that challenges my worldview, that makes me see the world differently.
Was there a specific book that sparked your love of reading?
In my first year of college, Ralph Waldo Emerson's Nature really changed the way I felt about reading. Emerson was so poetic, hopeful, and curious. It really made me want to learn more about the world and read more books that roused that kind of emotional response.
Do you have any guilty pleasure books?
I'm not sure if it's quite a guilty pleasure, but I still have a soft spot for the Harry Potter series. I have some fond childhood memories of staying up late, trying my best to finish the last few chapters of a book before I fell asleep.
What's an interesting fact that you learned from a book recently?
According to Carl Sagan's The Demon-Haunted World, a 1992 poll found that two percent of all Americans believed they had been abducted by extraterrestrials at some point in their life. If you extrapolate that data for the whole country, more than five million Americans in 1992 thought they had been abducted by aliens.
What's your favorite quote from a book or an author?
"The thing to remember about love affairs," says Simone, "is that they are all like having raccoons in your chimney." (Lorrie Moore, Birds of America)
What are your favorite book adaptations and why?
I like The Lord of the Rings trilogy, but my favorite adaptation by far would be the Coen Brothers' No Country For Old Men, based on a Cormac McCarthy novel. The movie does such a great job of transposing the existential dread and West Texas setting of the book onto the screen.
Are there any lesser-known books that you've read that you want others to know exist?
Lorrie Moore's Self-Help. It's a series of short stories, mostly written in the second person, that are hilarious and sobering at the same time.
At Shortform, how do you go about working on a book that has viewpoints you don't agree with?
In general, I find I'm pretty easily swayed by a good argument, which can be a good and bad thing. My goal is to try to understand my biases and recognize the validity of a viewpoint without feeling like I have to agree or disagree with it.
What are your favorite books in the Shortform library and why?
The Things They Carried is a great reflection on the power of storytelling. The Social Contract is still a relevant take on the rights people should have as citizens of the world. Thinking, Fast and Slow has some great info on how people make decisions and how we can train ourselves to make better ones.
Kevin's Recommended Reading List
Tenth of December and Lincoln in the Bardo by George Saunders
The Demon-Haunted World by Carl Sagan
Song of Solomon by Toni Morrison
Nature by Ralph Waldo Emerson
Self-Help by Lorrie Moore
About the Series
At Shortform, we want to give our employees names and faces so you can get to know the people who make the magic happen. That's why we're doing the Shortform Reads series, where we interview our employees and share their thoughts and opinions. You can check out more employee interviews here.
Shortform Reads: A Deep Appreciation for Short Stories