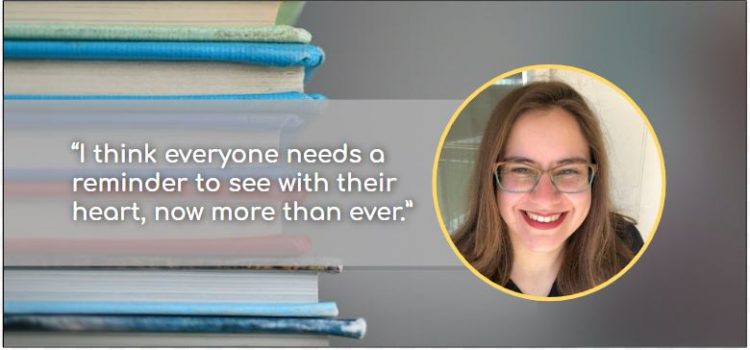 What book changed how Makenna viewed reading? Which book genres offer the most immersive escapism?
Located in Arizona, Makenna is a book guide writer for Shortform. She has a unique relationship with books—she went from viewing reading as a waste of time to adopting reading as one of her personality traits.
Our Interview With Makenna
Makenna has varied reading tastes—she reads everything from Regency romance to fantasy to classic literature. Here's our interview with her.
What's your favorite book and why?
This is always an impossible question for me because I love so many books for different reasons. My favorite comfort read is The Guernsey Literary and Potato Peel Pie Society by Mary Ann Shaffer and Annie Barrows. It's a lovely, cozy, historical epistolary novel about the profound connections we can find through books. It's well-written, and the characters are adorable.
My favorite fantasy series is The Raven Cycle by Maggie Stiefvater. It perfectly blends lyrical language, mythology, mystery, and found-family character dynamics.
In terms of classics, you can't go wrong with Pride and Prejudice and Little Women.
What's on your reading list these days?
The last book I read was Half a Soul by Olivia Atwater. It is a Regency romance set in an alternate version of England where faeries and magic are real. The plot was engaging, and the characters were great. It also dealt surprisingly heavily with the social issues of the time, like poverty and the workhouses. I enjoyed it quite a bit!
Right now, I'm reading Darling Girl by Liz Michalski. I got it a few months ago with my Book of the Month subscription. It's a modern-day Peter Pan retelling. I just started it, so I don't have a verdict other than it's pretty sad so far. I'm not sure what I'll read next. I have a huge TBR list, and my reading mood has been very nebulous as of late. I'll probably choose something spooky for October!
If you could have a dinner party with any three authors—dead or alive—who would they be and why?
My first pick would be Maggie Stiefvater because I adore everything of hers that I've read, and she's also a musician and visual artist like me. Next, I'd probably choose Jane Austen because her powers of wit, humor, and observation would make for excellent conversation. I'd love to know what she'd think of her legacy today. Finally, I'd choose Sy Montgomery. She's led such an interesting life, and she has amazing stories about her experiences with humans and animals across the globe.
What's your favorite genre? Why does it intrigue you?
Another difficult question. Just based on the distribution of my bookshelf, my favorite genres are fantasy, romance, and contemporary fiction. I use reading as an escape from everyday life, and these genres offer the most immersive escapism. I'm also very character-driven in my reading choices, so I look for books that have characters I can love and root for. I'll read a good mystery or historical novel now and again, too.
Are there any book genres or tropes that you dislike or refuse to read?
I don't flat-out refuse to read anything, but I don't tend to enjoy self-help books in my personal reading life—sorry! I'm a naturally suspicious person, so anytime an author tells me that their ideas will fix my life, it puts me off. I also find a lot of self-help books repetitive and boring.
What's your favorite way to read a book?
I prefer a physical book that's easy to hold open with nicely-textured pages. My favorite place to read is in the forest by a stream or river. The sunshine, the fresh air, and the sound of the water are heaven to me. I used to do that all the time as a kid when we'd visit my grandparents in Colorado during the summer.
What book or books do you think everyone should read in their lifetime?
I think everyone should read The Little Prince by Antoine de Saint-Exupery and How to Be a Good Creature by Sy Montgomery. The Little Prince carries such important messages about understanding what truly matters and holding onto your dreams. I think everyone needs a reminder to see with their heart, now more than ever. How to Be a Good Creature is full of lessons from animals about living a good life. I'm a firm believer that the world would be a better, kinder place if more humans appreciated the wisdom of our fellow creatures, and I think Montgomery captures that idea beautifully.
How have your reading tastes changed over the years?
My reading tastes honestly haven't changed that much over the years. I've always loved fantasy and romance. As I've grown older, I have come to appreciate the "classics" more, like Jane Austen novels and the Anne of Green Gables novels. I've also started to read more introspective works like Mrs. Dalloway. Overall, though, I've always read whatever interested me.
Was there a specific book that sparked your love of reading?
The Warriors series by Erin Hunter sparked my love of reading. I actually didn't like reading when I was first learning how—I thought it was boring and a waste of time. Then, my sister started reading Warriors and, as soon as I picked up one of the books, I was hooked. The series checked all the boxes for my childhood self: animal protagonists, drama, fantasy, and mythology. Warriors gave me years of fodder for dreams and stories, making me believe the world held hidden secrets. I'll always appreciate the series for that. Harry Potter and Percy Jackson came shortly after, both of which cemented my love of reading as a personality trait.
Do you have any guilty pleasure books?
I had a long paranormal romance phase, and it may or may not still be happening. They're so bad, but they're so good.
Have any books you've read caused you to make any life changes or to change or develop any habits?
Quiet by Susan Cain put words to feelings I'd had my whole life, really validating my existence as a young introvert. It helped me realize there wasn't something wrong with me, but, rather, the world wasn't designed for people like me.
The Tibetan Art of Serenity by Christopher Hansard helped introduce me to mindfulness, which later became a practice and a passion of mine.
Finally, Rosemary Gladstar's Medicinal Herbs taught me the basics of herbalism, igniting my interest in gardening and natural medicine.
What's your favorite quote from a book or an author?
Most recently, my favorite quote was, "Stories aren't fiction. Stories are fabric. They're the white sheets we drape over our ghosts so we can see them." It's the epigraph of Other Birds by Sarah Addison Allen.
What are your favorite book adaptations?
I thought they did a beautiful job with the movie adaptation of The Perks of Being a Wallflower. The casting was spot-on for the most part, and they still managed to capture the protagonist's voice in the film format.
I also love the BBC show Call the Midwife, which is based on Jennifer Worth's memoirs. I think it's a great example of how adaptations can successfully move beyond the source material. Both the book and the movie versions of Howl's Moving Castle are gorgeous and strange as well.
Are there any lesser-known books that you've read that you want others to know exist?
Tamsin by Peter S. Beagle is a great coming-of-age fantasy ghost story. It's relatable and well-written, and it captures the pain and triumphs of growing up. If you have any interest in art, history, design, or fashion, The Secret Lives of Color by Kassia St. Clair is a fascinating read backed by detailed research.
What are your favorite books in the Shortform library?
Quiet is my favorite book in the Shortform library because, again, it made me feel seen as a young person, and it's shaped a lot of my understanding of how I interact with the world. I haven't read most of the other Shortform book guides, so I look forward to exploring them more!
Makenna's Recommended Reading List
Quiet by Susan Cain
The Guernsey Literary and Potato Peel Pie Society by Mary Ann Shaffer and Annie Barrows
The Raven Cycle series by Maggie Stiefvater
Pride and Prejudice by Jane Austen
Little Women by Louisa May Alcott
The Little Prince by Antoine de Saint-Exupery
How to Be a Good Creature by Sy Montgomery
The Tibetan Art of Serenity by Christopher Hansard
Medicinal Herbs by Rosemary Gladstar
Tamsin by Peter S. Beagle
The Secret Lives of Color by Kassia St. Clair
About the Series
At Shortform, we want to give our employees names and faces so you can get to know the people who make the magic happen. That's why we're doing the Shortform Reads series, where we interview our employees and share their thoughts and opinions. You can check out more employee interviews here.
Shortform Reads: You Gotta Love a Good Character-Driven Plot