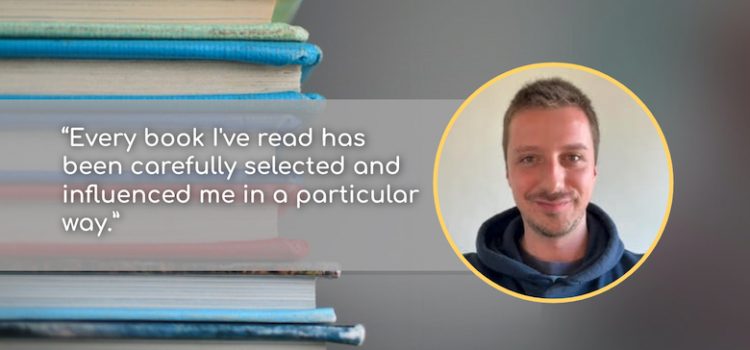 What book guided Filip through a year full of hardships? How do some self-help books rise above all the others?
Based in Europe, Filip is a digital illustrator and graphic designer at Shortform. In a recent interview, we learned a bit about Filip's relationship with books.
Our Interview With Filip
Filip has a healthy appetite for reading. Find out what books Filip carries around in a backpack—or on Kindle—and why.
What's your favorite book and why?
It's hard to choose a favorite book when every book I've read has been carefully selected and influenced me in a particular way, but I think I would say Mindset by Carol Dweck. I read it in the same year that I made a major career switch. Actually, it was when I quit my nine-to-five job and I was at the very beginning of learning a new skill. So this book kinda guided me through all the hardships that year, and it helped me see and accept everything as part of a long learning process—which it was and still is. No matter the mistakes we think we're making while being overly critical toward ourselves, we can learn from them and get better at whatever it is that we're doing. It's as simple as that: Accept, and learn.
What are you reading these days?
I recently finished Ego Is the Enemy by Ryan Holiday. Now I'm reading Be Who You Want by Christian Jarrett. Next on my list are Dopamine Nation by Anna Lembke, The Ride of a Lifetime by Bob Iger, Becoming Supernatural by Joe Dispenza, The Practice by Seth Godin, Seven and a Half Lessons About the Brain by Lisa Feldman Barrett, and some more!
What's your favorite genre? Why does it intrigue you?
I like books about psychology, mental health, and art—but I also enjoy a good thriller.
Are there any book genres or tropes that you dislike or refuse to read?
I tend to avoid self-help books that send a message like, "Do these 10 things, and your life will be perfect." That being said, I read a lot of self-help books that are supported by facts and research.
What's your favorite way to read a book?
Nothing can compare to a physical copy, but I do enjoy reading on my Kindle. I find it more practical and easier to take on the go—carrying a lot more books than my backpack can hold.
What book do you think everyone should read in their lifetime?
Making Ideas Happen by Scott Belsky, Mindset by Carol Dweck, and Flow by Mihaly Csikszentmihalyi.
Who are your favorite authors?
I honestly don't have a favorite author. I like a good book.
Do you have any guilty-pleasure books?
I recently got the hardcover edition of Meditations by Marcus Aurelius—with selected correspondence from Oxford World's Classics—right after I read the Shortform book guide. It's a book that I like having in my backpack or by my nightstand whenever I feel like reading a few pages.
What's an interesting fact that you learned from a book recently?
While people used to believe that the brain became fixed after a certain age, newer research has revealed that the brain never stops changing in response to learning.
Have any books you've read caused you to make any life changes or to develop any habits?
They've certainly helped me improve my habits. Especially after reading Atomic Habits by James Clear, I thought about my daily subconscious actions and how much they influenced my habits and what can I do to improve them.
What are your favorite book adaptations?
Angels and Demons and The Da Vinci Code.
Are there any lesser-known books that you've read that you want others to know exist?
The Life and Times of a Remarkable Misfit by AJ Leon.
What are your favorite books in the Shortform library and why?
Ikigai by Francesc Miralles and Hector Garcia, The Charisma Myth by Olivia Fox Cabane, and Meditations by Marcus Aurelius.
Filip's Recommended Reading List
Mindset by Carol Dweck
Making Ideas Happen by Scott Belsky
Flow by Mihaly Csikszentmihalyi
The Life and Times of a Remarkable Misfit by A.J. Leon
Meditations by Marcus Aurelius
About the Series
At Shortform, we want to give our employees names and faces so you can get to know the people who make the magic happen. That's why we're doing the Shortform Reads series, where we interview our employees and share their thoughts and opinions. You can check out more employee interviews here.
Shortform Reads: A Kindle & a Backpack Full of Books