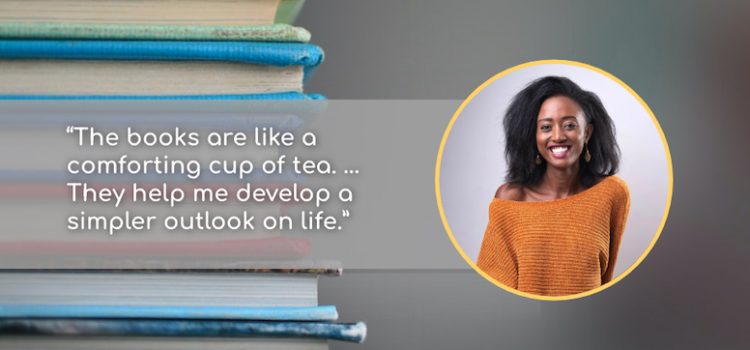 What book might help you change your relationship with yourself? What series is like a comforting cup of tea?
Grace could tell you. She's a host and writer for Shortform's YouTube channel. We interviewed her recently to learn a bit about her relationship with books.
Our Interview With Grace
Grace is such a sophisticated reader, she uses certain books to help her apply the principles that are in other books. Here's our interview with her.
What's your favorite book and why?
In the nonfiction category, I love Self-Compassion: The Proven Power of Being Kind to Yourself by Kristin Neff. It helped me change my relationship with myself in quite a dramatic way, and it enabled me to make lots of changes in my work and personal life that I had previously found difficult. It also helped me get back into meditation, which I now practice regularly.
In the fiction category, the No. 1 Ladies' Detective Agency series is nice. The books are like a comforting cup of tea—an easy read. Life is narrated so simply. Anytime I read the books in the series, they help me develop a simpler outlook on life in general.
What are you reading these days?
I'm reading a Ugandan novel called The First Woman by Nansubuga Makumbi. Also, for some time now, I've been meaning to read Nonviolent Communication by Marshall Rosenberg and Essentialism by Greg McKeown.
If you could have a dinner party with any three authors—dead or alive—who would they be and why?
King David from the Bible. He wrote many of the psalms and is popularly known in the Goliath story. I really admire his story and how he maintained faith in difficult times, and I'd love to know what he'd think about maintaining faith in the current world. Other than being a leader, he was also an artist. He played the harp and wrote music and poetry, and I'd love to talk more about that.
Cicely Tyson. I found her book Just As I Am so inspirational, and I would love to hear more about her thoughts on navigating the entertainment industry as a woman of faith and a Black woman—identities I relate to.
And, finally, Michelle Obama. I hadn't realized how much of a force she was until I read her book Becoming.
What's your favorite genre? Why does it intrigue you?
I don't have a favorite genre, but I've done quite a lot of reading in psychology, productivity, and the self-help category.
Are there any book genres or tropes that you dislike or refuse to read?
Off the bat, I wouldn't go for philosophy, science, art, or history. I find those topics more interesting to learn about in other mediums.
What's your favorite way to read a book?
A Kindle or physical copy is fine—with a cup of tea, of course.
What book do you think everyone should read in their lifetime?
Self-Compassion by Kristin Neff. I think the world would be much kinder if we spent some time reflecting on the value of compassion.
Who are your favorite authors?
No favorites, but I've recently liked Alexander McCall Smith, and, for some time, I was obsessed with Milan Kundera.
How have your reading tastes changed over the years?
I'm not as into self-help books as I used to be and have quite recently started reading more fiction. The novel I'm reading now—The First Woman by Nansubuga Makumbi—is not like anything I'd usually read. But, a friend bought it for me at a book fair, and I'm enjoying it thus far.
Was there a specific book that sparked your love of reading?
As a kid, I remember loving Goosebumps. Everyone at school read those books, and that's probably how I got into reading as a hobby.
What's an interesting fact that you learned from a book recently?
This is from a few years back, but, when I read the book Attached by Amir Levine and Rachel Heller, I remember reading that, although popular romance psychology states that, in order to be in a healthy relationship, you need to love yourself first and be 'whole,' that idea came from the codependency movement and was shared in relation to being in a relationship with an addict. The authors stated that the best option was to find someone who had a secure attachment style and similar goals and then travel down that road with them. I found that interesting because it sort of meant that we all had to accept ourselves where we are and stop the concept of one day being whole enough to be in a healthy relationship.
Have any books you've read caused you to make any life changes or to develop any habits?
Change Your Clothes, Change Your Life by George Brescia helped me develop a basic sense of fashion style—which, after graduating from university, I sorely needed. The Life-Changing Magic of Tidying Up by Marie Kondo helped me be less cluttered and more organized. And, The Power of Habit by Charles Duhigg helped me implement what I learned from The Miracle Morning by Hal Elrod.
What's your favorite quote from a book or an author?
I remember finding lots of things that Milan Kundera said in his books that were quite poetic. Here's one of many that I like: "The goals we pursue are always veiled. A girl who longs for marriage longs for something she knows nothing about. The boy who hankers after fame has no idea what fame is. The thing that gives our every move its meaning is always totally unknown to us." (Milan Kundera, The Unbearable Lightness of Being)
What are your favorite book adaptations and why?
Just because I grew up in this era, the Harry Potter movies. Later on, The Hunger Games.
Are there any lesser-known books that you've read that you want others to know exist?
Milan Kundera's books. I was introduced to him by a roommate who was from the Czech Republic, as Kundera is. His books blend fiction with some philosophy. I found them quite entertaining, but they also made me think.
At Shortform, how do you go about working on a book that has viewpoints you don't agree with?
As video hosts, we usually say, "according to the author," in case the audience assumes it's the host's point of view. As a writer, I lean on the same concept since I need to respect others' opinions the same way I'd want someone to hear me out. I think it's good in general to listen to people with different viewpoints and keep an open mind.
What are your favorite books in the Shortform library and why?
I loved working on The Millionaire Next Door as a host a couple of months ago! Doing so reignited my love for personal finance books, which I then chose to pick more of, as a writer. I'm currently working on Getting to Yes by Roger Fisher and William Ury, which covers how to negotiate well. It's blowing my mind! So many things I didn't know, and it's fun to work and learn at the same time.
Grace's Recommended Reading List
Self-Compassion: The Proven Power of Being Kind to Yourself by Kristin Neff
The No. 1 Ladies' Detective Agency series by Alexander McCall Smith
Milan Kundera's books
About the Series
At Shortform, we want to give our employees names and faces so you can get to know the people who make the magic happen. That's why we're doing the Shortform Reads series, where we interview our employees and share their thoughts and opinions. You can check out more employee interviews here.
Shortform Reads: Books Can Shape Perspectives & Habits