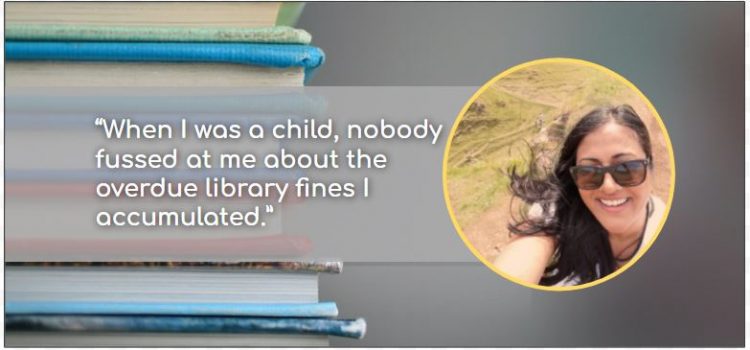 What do Margaret Atwood and Michelle Obama have in common? Why should you consider joining a book club? What movie is much better than the book?
Rina could tell you. Based in Texas, she is the SEO Team Manager at Shortform. We interviewed her recently to learn a bit about her relationship with books.
Our Interview With Rina
Rina's been a voracious reader since childhood, so we had a lot of fun interviewing her. Here's what she had to say.
What kind of work do you do at Shortform?
I manage the SEO Team. We're responsible for Shortform's blog. So, I handle the content strategy, oversee production, and monitor analytics. It's a nice hybrid between the creative aspects of content creation and the technical aspects of SEO and data.
What's your favorite book and why?
My favorite book changes, but Anxious People currently holds that title. It's a book that captures the essence of how it sometimes feels like we're all just doing the best we can—and reminds us to cut one another some slack. Station Eleven used to be my favorite, but actually living through the pandemic makes that book less fun to revisit.
What are you reading these days?
I'm always reading several books at once. I just finished The Echo Wife for a book club. The Thursday Murder Club is one of the books I'm currently reading because it was on hold for me at the library and it became available. I have no idea what I'll read next. I've had Dopesick on the shelf for a while, and—now that it's a show—I feel like I should read before watching.
If you could have a dinner party with any three authors—dead or alive—who would they be and why?
Margaret Atwood, Ruth Bader Ginsburg, and Michelle Obama. These are three incredible women, all of whom have had interesting lives and bring completely different perspectives to discuss.
What's your favorite genre? Why does it intrigue you?
I don't have a favorite genre, but I generally love books with interwoven narratives more than a linear story. For both fiction and non-fiction books, I like multiple perspectives that all slowly unfold to tell the whole story.
Are there any book genres or tropes that you dislike or refuse to read?
I generally don't like Groundhog Day plots where someone repeats the same day over and over. I'll read it if it's for a book club, but otherwise nope.
What's your favorite way to read a book?
I want a physical book to read while I sit in a comfy seat by a window with a tasty beverage within reach.
What book do you think everyone should read in their lifetime?
I don't have a specific book, but I think any memoir from someone different from you. I read Glennon Doyle's second book—Love Warrior—when it came out, and it's stuck with me. Her experiences were so far outside of my own that it's refreshing to get an honest, inside look at that. I felt the same way about Megan Rapinoe's memoir One Life.
Who are your favorite authors?
I tend to read a lot of different authors and don't feel like I have to read everything someone's done. I will say Fredrik Backman is often a hit for me, Samantha Irby consistently makes me laugh with her essays, and Sy Montgomery always knows how to humanize animals.
How have your reading tastes changed over the years?
I read a greater variety of books than ever before. Whenever I think there's a genre or sub-genre that isn't for me, a book will come along and change that. Being in book clubs has pushed me outside of my reading comfort zone.
Was there a specific book that sparked your love of reading?
I've always been a big reader so I can't pinpoint a specific book that pushed me that way. When I was a child, everything related to reading was always encouraged by my parents. I was never told "no" when I wanted to go to the library, and nobody fussed at me about the overdue fines I accumulated. I could stay up late to read, tote around as many books as I wanted, and even ignore people around me to bury myself in a book.
Do you have any guilty-pleasure books?
I feel no guilt about reading any book. If I'm enjoying it or learning something from it, the book has served its purpose. But, I guess as a full-blown adult, I may not be the target market for YA. So, maybe anything YA would be considered a guilty pleasure.
Have any books you've read caused you to make any life changes or to develop any habits?
The Dorito Effect really made me rethink the concept of flavor and how I flavor my food. Why have something that mimics the taste of something else when you can have the true, pure form of the flavor?
What's your favorite quote from a book or an author?
Oh, so many!
"Once a story you've regarded as true has turned false, you begin suspecting all stories." (The Testaments by Margaret Atwood)
"Survival is insufficient." (Technically, this is from Star Trek, but I read it in Station Eleven by Emily St. John Mandel.)
"The truth of course is that if people really were as happy as they look on the Internet, they wouldn't spend so much damn time on the Internet." (A Man Called Ove by Fredrik Backman)
"Do we settle for the world as it is, or do we work for the world as it should be?" (Becoming by Michelle Obama)
What are your favorite book adaptations and why?
I thought Silver Linings Playbook was much better than the book, but otherwise I just like when movies and shows expand on the book. The Handmaid's Tale, You by Caroline Kepnes, and Dopesick all do this in some way.
At Shortform, how do you go about working on a book that has viewpoints you don't agree with?
I think it's all part of the joy of reading. Experiences, narratives, and stories that aren't your own. I'm not interested in reading something that might as well be my own memoir or manifesto.
Are there any books you had to read for Shortform that you thought you wouldn't like and ended up loving?
Honestly, no. I approach each book with a focus on what useful nuggets I can pull out. This also means that, since I'm not reading purely for pleasure, I don't end up "loving" the book. Though I don't hate it either. I just focus on the learning aspect.
What's your favorite book in the Shortform library and why?
There are so many great books. I love Brene Brown's books, especially Daring Greatly. Another favorite is Think Like a Monk. Also, Caste. It's heavy but so important. It's incredibly rewarding to know that someone may be able to learn and grow from lessons we get to share. I know I expanded my own knowledge having read the book, so I'm hopeful it can do the same for others.
Rina's Recommended Reading List
About the Series
At Shortform, we want to give our employees names and faces so you can get to know the people who make the magic happen. That's why we're doing the Shortform Reads series, where we interview our employees and share their thoughts and opinions. You can check out more employee interviews here.
Shortform Reads: The Power of Memoirs & Book Clubs